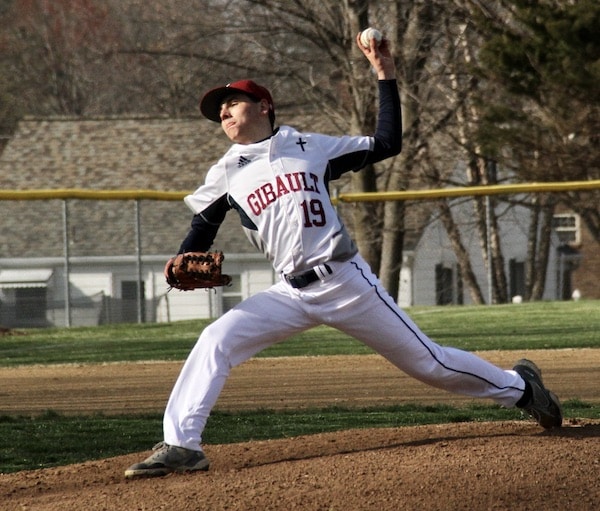 While rain canceled a few early games, local high school baseball teams did get the chance to start their respective spring seasons.
Waterloo has busted through the starting gate at 3-1-1, taking down Red Bud twice and New Athens once before falling Tuesday at O'Fallon, 4-1.
On Monday, the Bulldogs won 12-0 at Red Bud. Nolan Veto went 2-for-3 with three RBIs and Koby Osterhage went 2-for-2 with a pair of runs scored. AJ Sensel pitched five innings of one-hit baseball with seven strikeouts.
On Thursday, Waterloo won 11-1 at home over New Athens. Jack Roessler went 2-for-2 with three RBIs and both Evan Davis and Brandon Moseley went 2-for-3.
The Bulldogs opened their 2023 campaign last Wednesday with a convincing 11-0 victory over Red Bud. Sensel went 2-for-2 with two RBIs and three runs.
Osterhage and Nate Phillips each went 2-for-3 and Phillips struck out eight in four and one-third innings pitched.
Waterloo played Wednesday at Trico, battling to a 7-7 tie. The 'Dogs trailed 7-3 after five innings but rallied for four runs in the sixth. The game was called after seven innings due to darkness. Davis had a double and three RBIs.
Waterloo plays Saturday at rival Columbia before hosting Freeburg on Monday.
Columbia (3-1) lost 4-3 at Clayton on Thursday. The Eagles led 3-1 into the bottom of the seventh inning but could not preserve the victory.
Columbia won 15-0 over Wood River on Tuesday. Dom Voegele and Lucas Riebeling homered for the Eagles,
Last Wednesday, the Eagles won 6-0 over Althoff. Aidan Gaither, Alex Schreckenberg, Reed Drabant and Voegele collected two hits each for the victors.
Columbia hosts Salem on Thursday, hosts Waterloo and Marion this Saturday, hosts Gibault on Monday and plays Tuesday at Breese Central.
Gibault (3-1) won 24-2 over Cahokia on Thursday. Hudson Blank and Daniel Darin had three hits and three RBIs each for the Hawks. Kameron Hanvey went 2-for-3 with three RBIs.
On Wednesday, the Hawks survived a 14-13 slugfest with Chester. Gibault plated six in the top of the first inning and led 12-3 entering the bottom of the six. Blank and Brady Biffar collected three hits each.
The Hawks play a Saturday doubleheader at Mascoutah, play Monday at Columbia and travel Tuesday to Father McGivney.
Valmeyer (2-3) lost 11-1 to Valle Catholic on Monday. Landon Roy went 2-for-3 with three stolen bases for the Pirates.
On Thursday, Valmeyer won 7-1 over Okawville. Elijah Miller was the star of the game for the Pirates, pitching a complete game one-hitter with six strikeouts and also going 2-for-2 with a pair of stolen bases.
Valmeyer hosts Marissa this Thursday and hosts Steeleville on Tuesday.
Dupo (0-3) dropped a 7-5 contest to Staunton last Wednesday despite rallying for four runs in the bottom of the seventh inning.
Ashton Stein went 3-for-3 and both Deegan Prater and Logan Stevens collecting two hits.
The Tigers host Lebanon on Thursday and play Tuesday at New Athens.