House fire near Maeystown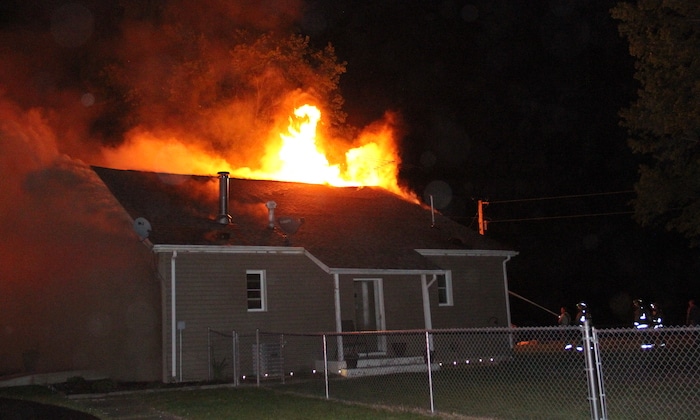 The Maeystown, Waterloo and Valmeyer fire departments battled a residential structure fire shortly after 11 p.m. Thursday at 4452 Maeystown Road.
All occupants of the remodeled late 1800s former Posten schoolhouse just north of Maeystown were able to exit safely. The owners of the home are Matthew and Christy Liefer.
Maeystown Fire Chief Lynden Prange said the person who called 911 said the fire was to wires outside of the home and it was believed to be out, but then popping sounds were heard in the area of the electrical box.
"It was fully involved when we got there," Prange said. "It got up into the attic and started shooting through the roof."
Maeystown Road was closed in both directions as firefighters worked into the early morning hours Friday to control the fire. Monroe County EMS performed wellness checks on firefighters and made sure they were properly hydrated during the incident.
"I want to give them a shout out," Prange said.
Prange said the cause of the fire was electrical in nature. The structure was most likely a total loss, he added.
Maeystown firefighters returned to the scene about 4 a.m. for a rekindling of the structure.