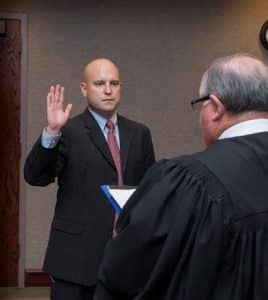 While Chris Hitzemann took office on Dec. 1, the Columbia man dreamed of becoming a state's attorney even before he started practicing law.
"It's why I went to law school. This is what I always wanted to do," Hitzemann told the Republic-Times.
With less than two weeks under his belt, Hitzemann, 36, can already say with certainty that he loves his job more than any previous position he held. Part of that stems from knowing the purpose he can serve to strengthen the community.
"I can already see that the office has the potential to touch a number of lives," Hitzemann said.
For instance, the Republican officeholder said he will work to rehabilitate juveniles engaging in crime.
"I can see through court intervention that we can deal with some issues before they become regular visitors to court," Hitzemann said.
For now, Hitzemann will not make sweeping changes to the office, citing that he needs more time to review procedures and determine how well they work.
"I don't know if I've been here long enough to know what to change," he said. "Now that I've had a peek behind the curtain … with time, I'll develop procedures."
Hitzemann takes over for retiring state's attorney Kris Reitz. A Red Bud native, Hitzemann graduated from the University of Illinois with a bachelors degree in psychology, received his law degree from John Marshall Law School and became a civil defense attorney at Thompson Coburn LLP in St. Louis.
He said working at Thompson taught him to juggle a heavy case load and to do so with a lot of autonomy. Hitzemann and his wife, Beth, also plan to raise their two children — Ella, 5, and Evan, 3 — in the county, providing him with another motivational factor for keeping the community safe.
"It's a great place to live. There's no denying that. I want my kids to grow up in a safe environment," he said.
Hitzemann looks to come down on the drug problem seeping into Monroe County, including bringing to justice anyone who sells or moves drugs.
"I want to send a message to (drug traffickers) that it's not business as usual," he said.
When asked how he believes the Monroe County Sheriff's Department will help him achieve this goal, Hitzemann said he hopes police will do the proper leg work to make getting convictions as easy as possible.
"We're going to have a good working relationship," Hitzemann said. "I hope the police send cases that are easy to prove."
The office of state's attorney also works closely with the circuit clerk's office, now run by Lisa Fallon, and Monroe County Circuit Court Judge Dennis Doyle. Hitzemann said he believes that working with Doyle, a Democrat, will "play out well."
"I have the utmost respect for Judge Doyle," he said, adding, "I got to know Lisa well on the campaign trail. She's a smart lady. I know that with time, we'll work well together."
Currently, Hitzemann finds himself occupied with adjusting to the new role and traffic court appearances. Hitzemann will experience his first jury docket call in January and looks forward to providing justice.
"My focus will be on the victims. I would like for the victims to feel like the office is doing them justice," he said.