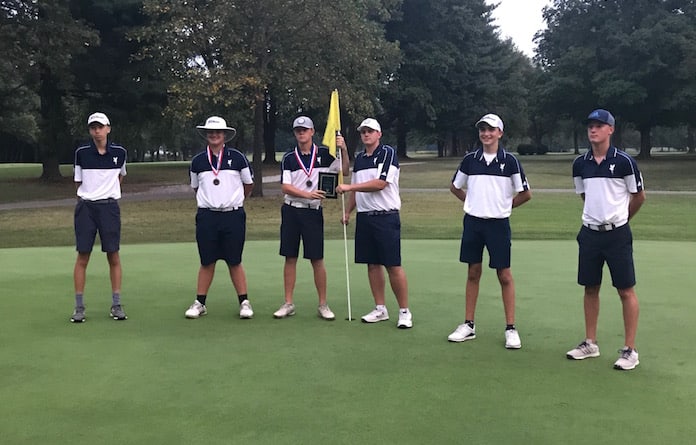 Following its Monroe County Tournament title the week before, the Gibault Catholic High School boys golf team tied Mater Dei at the Nashville Invitational Tournament on Thursday.
Both teams shot a nine-hole score of 154, so the winner was ultimately decided by the best fifth golfer score. 
That went to Mater Dei.
Three golfers – including Gibault's Ryan Kruse and Ryan Bollinger – tied for the top overall score at an even par 36. Kruse won the playoff hole with a birdie.
Other teams competing in the tourney were Nashville, Chester, Wesclin, Okawville, Sparta, Breese Central, Murphysboro and Greenville.
On Monday, Gibault continued its successful fall season by shooting a 159 at Acorns Golf Links in Waterloo to defeat Christ Our Rock Lutheran and Father McGivney.
The top Hawks golfer on this day was Alex Sweeney, who shot a 38. Teammate Ian Bollinger was just one stroke behind with a 39.
Gibault head golf coach Steve Bergheger said the Hawks will host the regional tournament, which is set for Oct. 6 at Acorns Golf Links.
In other recent golf action, the Columbia boys and girls golf teams paired to compete in the Belleville East Co-Ed Challenge at Tamarack on Thursday. The Columbia pairing of Spencer Tate and Marissa Maldonado led the Eagles with a 71.
Last Tuesday, the Waterloo boys shot a 192 to Dupo's 215. Ian Schrader posted the top nine-hole score for the Bulldogs on the day with a 45. Sean Green shot a 48 for Waterloo.
Dupo was led by AJ Williams, who shot a 51.
On Monday, Waterloo shot a 170 team score to down Granite City by 30 strokes. Cooper Sandheinrich posted the top overall score on the day with a 40 for the Bulldogs.
Logan DeFosset shot a 41 and Zach Smith shot a 43 for Waterloo.
Dupo shot a 216 to New Athens' 202 at Mystic Oak in Waterloo last Wednesday. Williams again led the Tigers with a 51.
Mason Page of New Athens won the match with a 47.
On Monday, the Dupo boys shot a 209 to lose to Metro-East Lutheran by eight strokes at Oak Brook Golf Course in Edwardsville.
Noah Chism led the Tigers with a 51, followed by Williams and Jett Ray each with a 52.