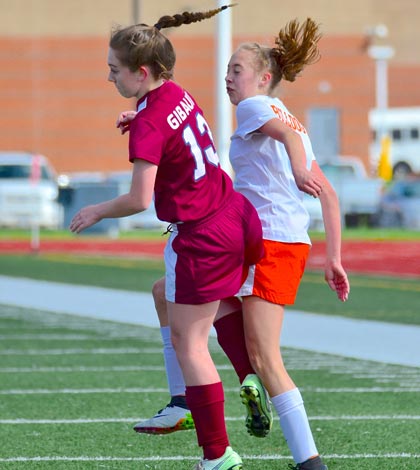 Only a few regular season games remain before regionals as local girls soccer teams aim to position themselves for the postseason grind.
Columbia is riding high at 11-2-1 following two recent wins.
On Monday night, the Eagles took care of Alton at home, winning 3-1. Kennedy Jones, a sophomore transfer from Ursuline Academy in St. Louis, continued her amazing spring with a goal; Chloe Graff scored twice in the victory.
On Thursday, Columbia posted an impressive 1-0 win at Nerinx Hall. Jones scored the game's only goal on an assist from Sophia Bonaldi. Rylee Iorio made eight saves in net for the shutout.
Columbia head coach Jamey Bridges said his team is playing confident.
"We have been playing very well defensively and playing as a unit in the backfield," he said. "When we are getting opportunities to score, we are capitalizing. Our midfield is creating some great opportunities and Kennedy Jones, Chloe Graff and Blair Wittenbrink are finishing well."
The Eagles play at Anna-Jonesboro on Wednesday and host Mehlville on Monday.
Jones has 12 goals and three assists to lead Columbia, followed by Fae Harrell with nine goals and seven assists and Wittenbrink with eight goals.
Another team playing well of late is Waterloo. The Bulldogs blasted Mississippi Valley Conference foe Jerseyville…>>>
For information on the rest of the local girls soccer teams as well as the Class 1A regional pairings, read the April 26 issue of the Republic-Times. If you don't already receive the paper, you can subscribe by calling 939-3814 or clicking here, or pick up a copy at any of these locations.