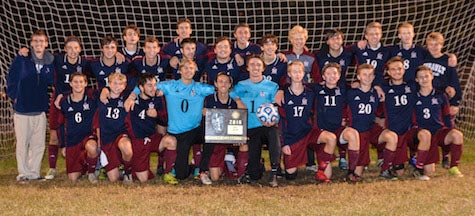 The Gibault soccer team defeated Catholic school rival Althoff on Friday night, 1-0, to claim a Class 1A sectional championship.
Following a scoreless first half of action at Oerter Park in Columbia, Kyle Rocca notched his fourth goal of the postseason with 10 minutes remaining to give the Hawks a 1-0 lead. The goal came as the result of a perfectly designed corner kick from Karson Huels that went to Dalton Scace and then to Rocca.
"We work on it at practice," Gibault head coach Matt Reeb said of the play after the game. "We executed the play perfectly."
Althoff didn't go down without a fight, with shots hitting the left goal post and the crossbar late. Gibault goalkeeper Trevor Davis also made multiple spectacular saves to preserve the shutout.
"He's a big, long, athletic keeper," Reeb said. "He did well."
Gibault (14-7-1) advances to the Granite City supersectional, and will play Tuesday night for a chance to return to the state tournament.