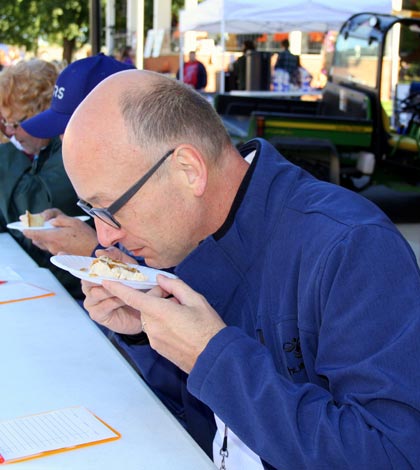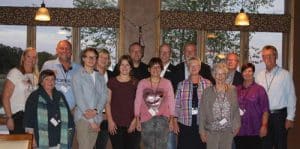 Two years ago, Waterloo Mayor Tom Smith visited Porta Westfalica, Germany, in the spirit of an ongoing partnership between sister cities.
Fifteen German delegates from Porta Westfalica arrived in Waterloo on Friday for a five-day trip. Two years from now, Smith will return to Porta Westfalica for another visit.
"It's like seeing old friends," Smith said.
The sister cities partnership also involves exchange student visits every summer.
"It's a shame the rest of the world doesn't have partnerships with other cities," Smith said.
During Smith's visit in 2014, he met Porta Westfalica Bürgermeister Bernd Hedtmann, who became the mayor that year. Hedtmann traveled along with the group for this year's trip to Waterloo.
From getting to know each other on these trips, Hedtmann and Smith took away different lessons on what they could do as mayors of the sister cities. Smith said he would like to push for businesses to have flowers on the outside of their buildings after he saw that practice done in Porta Westfalica.
"There are some things I have in my head here from Waterloo that I'm going to see how they translate to Porta Westfalica," Hedtmann said of his ideas he gained from Waterloo.
Additionally, Hedtmann enjoys his role as mayor of the German sister city, though he works long days — and every day of the week. His favorite part of the job involves problem-solving for the people of the community.
"I like it. I don't like missing a day," he said, as that causes him to fall behind.
While Hedtmann is new to the sister cities relationship, another German visitor shares more of a history with the partnership. Porta Westfalica Sister Cities President Karl-Heinz Wille first traveled to Waterloo in 1985.
"It was a big journey for us," he said, explaining that Waterloo has grown substantially since his initial visit.
Back then, Wille remembers a population of about 5,000. The United States Census Bureau estimated a population of more than 10,200 in 2015. Comparatively, more than 35,000 people reside in Porta Westfalica.
Wille categorized his latest trip to Waterloo as enjoyable, with his favorite part consisting of baking potato pancakes during Maeystown Oktoberfest on Sunday.
"It was good, but it was very hot there," Wille said of the heat from cooking. "It was nice weather."
In addition, the German visitors attended Waterloo PumpkinFest on Saturday, toured St. Louis via a trolley, enjoyed a dinner at Waterloo Country Club and visited the Gateway Arch, among other activities.
"The people are so friendly to us," Hedtmann said. "Everyone comes and talks to us."
For Hedtmann, visiting the Purple Heart memorial at Lakeview Park and hanging out at PumpkinFest were his favorite parts of the trip. Hedtmann even participated in the pumpkin treat judging contest during PumpkinFest.
"The cheesecake was best," he said.
Hedtmann and the rest of the German delegates enjoyed the trip and are excited to continue the partnership with the city of Waterloo.
"We looked forward to this visit," Hedtmann said. "I think the city of Waterloo is a very pleasant town."