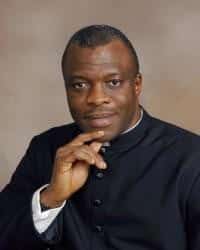 A Waterloo woman filed a lawsuit Tuesday in St. Clair County Court against the Diocese of Belleville after she allegedly faced 18 months of sexual abuse from a Ss. Peter & Paul Catholic Church priest.
The lawsuit alleges that Father Osang Idagbo sexually abused and exploited Laura Merleau-McGrady, 51, between December 2013 and July 2015 and that he was employed by the Diocese during that time. The lawsuit seeks compensation in excess of $50,000. Idagbo, who came to the Diocese from Nigeria in 2008, has served as pastor of the Waterloo church since 2009.
According to the suit, McGrady approached Idagbo soon after they met in 2008 about counseling her on a troubled relationship with her boyfriend (whom she later married), her health and on converting to Catholicism. She identified with Idagbo because of their shared ability to speak French.
The suit states that "Idagbo learned sensitive, private information about" McGrady through their counseling sessions "that he later used to exploit and manipulate her into a sexual relationship."
The filing states that, among other locations, some of the alleged sexual contact occurred in the rectory at Ss. Peter & Paul. "Idagbo sexually abused and exploited other women before, during, and after the time he sexually abused and exploited" McGrady, the suit also states.
Additionally, the lawsuit claims the Diocese "knew or should have known" Idagbo was sexually exploiting McGrady. McGrady said the fact that other alleged victims may feel afraid to come forward prompted her to want to be identified in the lawsuit.
"Once I began learning more of the stories of others who had similar experiences to mine, I realized my spiritual and emotional suffering were not unique and I needed to do something to help others avoid falling into the same trap into which I fell," McGrady said in a news release. "So I am filing this lawsuit to add to the growing number of voices trying to bring to light the corrupt system in the Catholic Church that encourages, allows, and does nothing to stop priests from becoming predators."
She added, "To anyone else that Father Idagbo may have hurt, I want you to know that you will not be alone if you come forward."
Around the same time she filed the lawsuit, the Survivors Network of those Abused by Priests held a demonstration outside of the Diocese of Belleville Chancery.
"Many overlook or minimize the horrific manipulation and abuse of vulnerable parishioners by powerful predatory priests," SNAP executive director David Clohessy said in a news release. "But it's widespread and devastating."
In response to a request for comment, the Diocese of Belleville released a brief statement to the Republic-Times.
"The Diocese of Belleville takes seriously any complaint of impropriety," the statement reads. "It is, however, the Diocese's policy not to comment on pending litigation."
A church official also did not wish to comment at this time.
McGrady currently resides in China and is teaching English to Chinese students for a two-year period that began in 2015. She is listed as a member of Concord Presbyterian Church in Waterloo. Since 2005, McGrady has suffered from fibromyalgia — a disorder that contributes to pain, mood issues, fatigue and other symptoms. She is also categorized as bipolar and struggled to find steady employment after finishing her college education.
Entering a job-readiness program in 2014 known as Starkloff Disability Institute's "Next Big Step" program helped McGrady learn to market her skills for employment, according to a feature on her that appeared in a September 2015 issue of the Republic-Times.