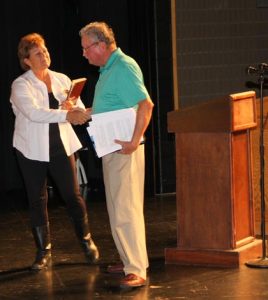 The 2016 Meet the Candidates Election Forum is in the books, and the approximately 150 Monroe Countians who attended the event at Waterloo High School or watched the live feed by HTC walked away with a better understanding of those vying for local, regional and state positions.
With Sheila Simon's the lone empty chair, the otherwise full bill of candidates introduced themselves and answered questions previously submitted by the public and the Waterloo Chamber of Commerce and posed by moderator Alan Dooley.
Monroe County Circuit Clerk incumbent Sandy Sauget and challenger Lisa Fallon went back and forth about the use of technology in the office. Although technology is limited currently, according to a criticism made by Fallon, the county will join a statewide system of circuit clerk software in 2017.
"It was just approved by the judicial circuit," Sauget said. "We will be implementing that, it will be called eFileing. It's a company from Tyler, Texas, and they won a bid with the state of Illinois… With the state they have a proprietary software system."
The decision to "go online" lay with the 20th judicial circuit, Sauget said. That decision came down this summer when Illinois contracted with Tyler Technologies out of Texas for their eFileIL proprietary system based on Tyler's Odyssey File & Serve platform.
Leo Stephan, who is challenging Vicki Koerber to fill retiring Monroe County Commissioner Terry Liefer's spot, said the desire to see greater fiscal responsibility on the board. As a licensed insurance broker with more than 40 years serving in multiple capacities within the insurance business, he said he believes he has the knowledge to help reign in one of the county's greatest expenditures — insurance costs.
Koerber vows to bring her leadership and financial experience, and her position as co-founder and board member of the Monroe County Coalition for Drug Free Communities. She said she feels she has the "tools and knowledge of a working government to be a very good" member of the county board.
Monroe County Coroner candidates Cassy Goldschmidt and Bob Hill each addressed their diverse backgrounds and experiences, and how they suit them best to full the position of coroner, a position being vacated by Koerber so she can run for county board.
A cancer survivor who is completing her Doctorate of Pharmacy degree at SIUE, Goldschmidt said she has the professional knowledge of drugs and medical anatomy, as well as the personal quality of compassion, necessary to be a good coroner.
Hill, who has been deputy coroner for eight years, cited his extensive experience, training and relationships with law enforcement.
State's attorney candidates Heather Westcoat Dabler and Chris Hitzemann will vie to fill the vacancy left by retiring state's attorney Kris Reitz. Hitzemann said that from the more than 1,000 cases he has been involved with, many as a litigation attorney, he possess the skills, ability and experience to "decide when to negotiate, when to plea, and when to send a case to trial."
Dabler, a trial attorney, said if elected she would make the fight against drugs paramount to her position, looking into things like creating a drug court, bringing more drug education into county schools, and factoring in mental health factors.
Paul Schimpf is running against Sheila Simon for the state senate seat being vacated by Dave Luechtefeld. Simon was unable to attend but a representative spoke about her commitment to growing the Illinois economy, supporting better higher education funding, instituting term limits for certain elected state officials, and said she's "not afraid to go against Springfield."
Schimpf spoke for the need for meaningful bi-partisan work if the state budget is ever going to be balanced.
"We cannot tax our way out of it, we can't cut our way out of it," Schimpf said. "If we're going to get out of it we must get our economy going again."
A significant element is making the state attractive to job creators once again.
For much more on the forum, read next week's issue of the Republic-Times.