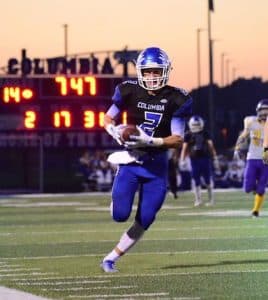 Both Columbia and Waterloo traveled on the road Friday night to play games with conference and playoff implications.
The Eagles passed their test with flying colors; the Bulldogs were not as fortunate.
Columbia went into Breese Central for a battle of unbeaten teams and dismantled the Cougars, 33-6. The Eagles defense forced four turnovers, including an interception for a touchdown and a stripped fumble recovery that soon led to another score. Columbia (7-0) also bottled up Central's touted rushing attack.
The two teams played even through the first quarter, with neither team getting on the scoreboard. Columbia finally broke through with two Greg Long field goals to go up 6-0 midway through the second quarter. Jordan Holmes picked off a Cougars pass and took it to the house for a 35-yard score, giving Columbia 13-0 cushion heading into halftime.
Central scored early in the third quarter to make it a 13-6 game, but the Eagles countered with 20 unanswered points to make it a blowout.
Long connected on a 14-yard TD pass to Holmes at 3:39 of the third quarter, and Colton Byrd caught a 24-yard TD pass shortly after recovering a fumble on defense.
Long added a 40-yard TD run early in the fourth quarter to put the game away. He finished with 211 yards passing and 98 yards rushing in the contest. Holmes caught six passes for 131 yards.
Owen Suedkamp led the Eagles defense with 10 tackles and six assists.
In Bethalto, the Waterloo football team had hopes of ruining Civic Memorial's homecoming game in a battle of 4-2 teams.
The Eagles scored first in the Mississippi Valley Conference clash on a four-yard TD run at 8:26 of the first quarter.
Waterloo quarterback Ross Schrader answered with a seven-yard TD scamper at 3:26 of the first, but the 'Dogs missed the extra point kick.
In the second quarter, CM scored on a short TD run to go up 14-6 at 9:42. A safety by the Waterloo defense kept the game close at halftime, 14-8.
A Dalton Viglasky TD run at 7:23 of the third quarter actually gave Waterloo the lead at 15-14. But it was short-lived, as CM answered with a 31-yard TD pass near the end of the third quarter to go up 20-15.
Waterloo's defense held CM on a critical fourth down play late and got the ball with four minutes remaining in the game, but were stopped at the CM 33 yard line with 1:51 on the clock. CM proceeded to get a first down and win the game.
In other local football scores from Friday night, Dupo lost at Carlyle, 44-7, and Red Bud edged Portageville, 67-60.