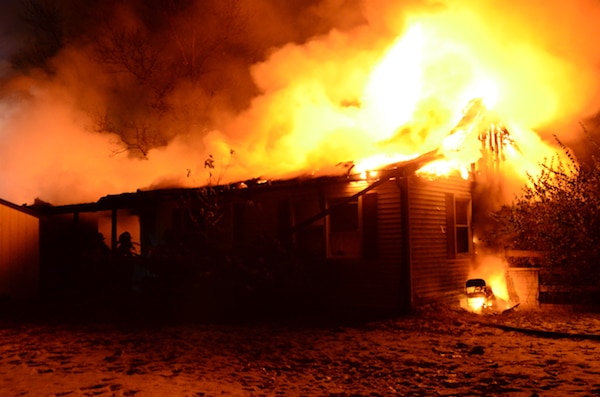 The Millstadt, Columbia, Waterloo and Hecker fire departments responded about 7 p.m. Tuesday to a fully engulfed structure fire at 3845 Lower Saxtown Road east of Waterloo.
Firefighters battled the flames in frigid temperatures for a few hours, hauling in water from a nearby pond. The occupants of the home were able to exit safely without injury, but the home appears to be a total loss. The owner of the home is Todd Shylanski.
The fire may have originated in the chimney.
At about 8:45 a.m. Wednesday, Millstadt, Columbia and Hecker firefighters returned to the scene for a rekindling.
A GoFundMe account has been created in support of the Shylanski family. To donate, click here.
In addition, the Millstadt Xplosion baseball program has put out the word for support to the family, requesting donations of cash, gift cards and clothing to be collected from 10 a.m. to 2 p.m. Saturday at the Xplosion facility located at 5959 Floraville Road.
For more information on that collection drive, click here.
For a video from the scene on Tuesday night, see below.