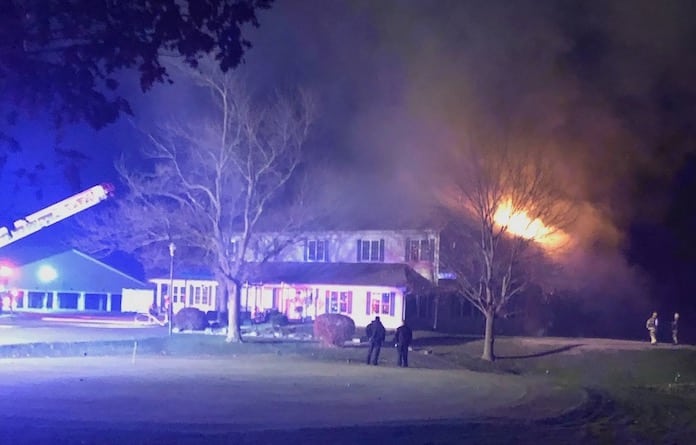 The Waterloo, Columbia and Hecker fire departments responded shortly after 3:30 a.m. Saturday to a fire at the clubhouse of Mystic Oak Golf Course, 643 Ridge Road off Hamacher Street in Waterloo.
Flames were seen shooting from the structure upon emergency responder arrival. No injuries were reported in the blaze, which was under control within a short amount of time.
The clubhouse includes an upstairs banquet room for special events and is also home to Mr. BBQ restaurant.
Waterloo Fire Chief Aaron Shive said the cause of the fire appears to be a bucket containing cigarette butts outside of the structure.
"It was external. It started on the side deck and worked its way up to the attic," Shive said, adding that an insurance company is further investigating the incident.
Shive said the firefighters' attack on the blaze was "executed smoothly," with flames knocked down within about five minutes after arriving on scene.
Damage to the clubhouse was limited to an exterior wall, the upstairs area and roof.
"It's all salvageable," Shive said.
The fire resulted in damage to a banquet room that was booked through December for events. The main dining room sustained smoke and water damage and will be closed until repairs can be made. Food, drinks and supplies have to be thrown out because of smoke damage and utilities cannot be turned on. Lindsay Cumback, the daughter of Mr. BBQ owners Kiwan and Karen, created a GoFundMe fundraiser to raise money for the employees who are out of work during the closure.

"My parents held a meeting with their 20 employees today and told them between insurance and their personal funds they will do everything they can to keep them afloat during the closure and holidays," Cumback shared on GoFundMe. "Their team is made up of parents, students, and young adults who count on their shifts and tips. By donating to this fund, you can help put the extra cash in their pocket during this time of uncertainty. This could help buy Christmas gifts for their children, put gas in their car, or pay a bill. If you've ever worked in the restaurant industry, you know you count on those good shifts to get you through! Unfortunately, they won't have the opportunity for the holiday rush and banquets that were scheduled."

The fundraiser has a goal of $2,000.
To view the GoFundMe or to donate, click here.