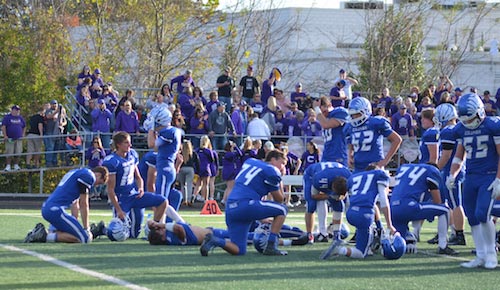 It was a tale of three games in one during Saturday's second-round Class 4A football playoff matchup between Columbia and Canton.
Canton came into Columbia and dominated the line of scrimmage early on, going up 12-0. In fact, the Little Giants kept the Eagles off the scoreboard until the final seconds of the first half. Colton Byrd scored from one yard out for Columbia following an acrobatic 27-yard catch by Jordan Holmes. The Eagles trailed 12-7 at halftime.
Energized by the newly found momentum, the Eagles capped off an impressive third quarter drive with an eight-yard TD pass from Greg Long to Liam Knox at 4:45 to go up 14-12. The drive featured the hard running of Byrd, who finished with 199 yards rushing in the game.
Following a leaping interception by Holmes, more running by Byrd put the Eagles in scoring position again and Long hit Dylan Hildebrand from four yards out to give Columbia a 21-12 lead at 7:36 of the fourth quarter.
Now in desperation mode, Canton quarterback Clint Wells connected with Nathan Lucas for a 40-yard TD pass at 2:35 to make it a 21-19 game. An onside kick was unsuccessful, but the Little Giants forced Columbia to punt with one last shot to take the lead. Wells then hit Kade Stancil in stride for a 74-yard TD with just 53 seconds remaining. A two-point conversion attempt was successful, putting Canton up 27-21.
The Eagles put together a last-ditch effort of their own, bolstered by a Long-to-Holmes-to-Mitch Daniels double pass, but a pass attempt from the 18-yard line on the final play was broken up in the endzone.