The Columbia volleyball team is continuing its winning ways under new head coach Dustin Cutts.
The Eagles improved to 11-2 on the season by winning three of four matches in the Mascoutah tournament on Saturday.
Columbia topped Centralia, Metro East Lutheran and Freeburg in two sets, but lost in two sets to Murphysboro, 26-24, 25-12.
On Thursday, the Eagles won at rival Waterloo, 25-18, 25-20. Mia Valleroy finished with eight points, seven kills and four blocks to lead Columbia. Whitney Edwards and Molly Mistler added seven kills each.
Hannah Cope led Waterloo with seven kills.
The Eagles also picked up a two-set win over Carlyle last Tuesday.
Valleroy is tied for the team lead with Haley Mathews in kills this season with 68. Valleroy also leads in blocks with 26.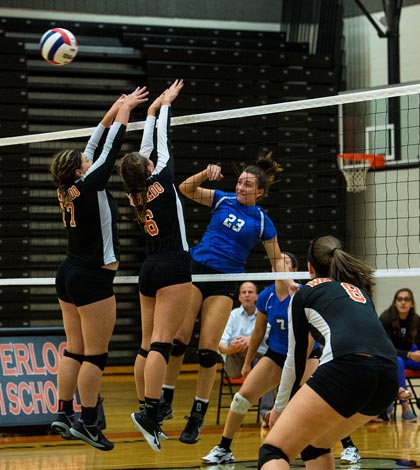 Ellie Stone leads Columbia in service points (61) and digs (122). Paige Becker leads the team with 158 assists.
The Eagles played at Breese Central on Tuesday and will be at Salem on Thursday.
Valmeyer is also continuing its winning tradition, pulling off four victories in five matches at the Benton tournament on Saturday to take the silver division title.
The Pirates (10-2) defeated Thompsonville, West Frankfort and Benton in two sets, but lost to Carlyle in three sets. Valmeyer closed out the tourney with a three-set victory over Fairfield.
Valmeyer senior Sam Seidel was named to the all-tourney team. Also playing well in the tourney were Jessie Seidel and Sara Andres. Both recorded 12 kills in the win over Fairfield and had nine kills apiece against Thompsonville.
Valmeyer dropped a two-set match at home to Red Bud last Wednesday, 25-17, 25-17. 
Last Tuesday, the Pirates picked up a two-set win at home over Lebanon. 
Guin Kohnz recorded eight service points with 13 assists in the victory. Jessie and Sam Seidel added seven kills each and Andres recorded seven blocks.
Kohnz leads the team in points (78) and assists (226) this season. Jessie Seidel leads in kills with 93. Andres leads with 28 blocks.  
The Pirates hosted Marissa on Tuesday.
Waterloo (4-5) has been idle since Thursday's loss to Columbia. The Bulldogs played at Jerseyville on Tuesday and will host Civic Memorial on Thursday.
Skylar Geske leads the team in points (54) and digs (183) this season. Cope leads in kills with 62.
Gibault (3-6) dropped a two-set match to undefeated Althoff last Tuesday, and fell in two sets at Granite City on Monday, 25-22, 25-19.
Lexi Chambers and Lexi Poepper played well for the Hawks on Monday, recording seven kills each. Kayla Huels added 23 assists.
Gibault hosts Metro East Lutheran on Wednesday and will be at O'Fallon on Friday.
Dupo (2-7) lost at Marissa last Tuesday and at home to Lebanon on Thursday, both in two sets.
The Tigers host Valmeyer on Thursday. 
Kassidee Keys leads Dupo in points this season; Courtney Stanek leads the Tigers in kills.