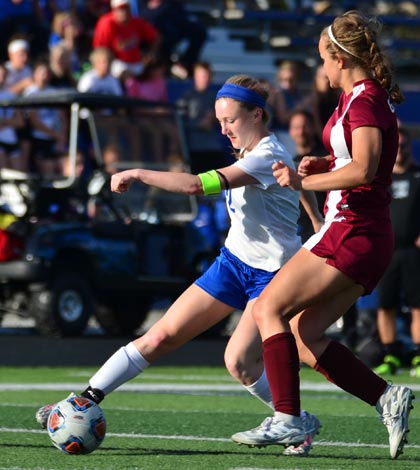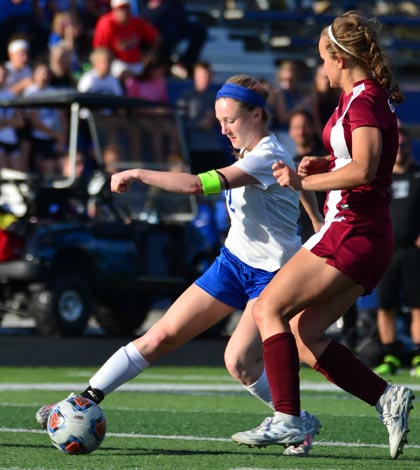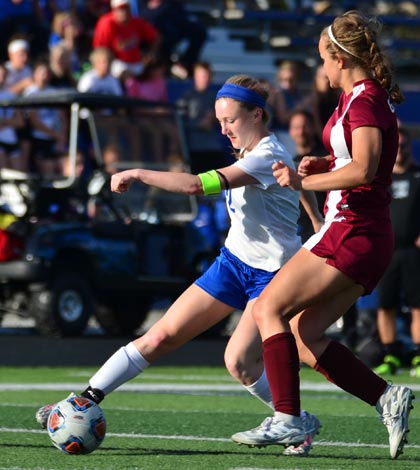 The Columbia High School girls soccer team has the good fortune of being able to play both the regional and sectional rounds on its home field this spring.
So far, the Eagles have made the most of it.
Columbia (17-2-1) blanked Murphysboro and cross-county rival Gibault last week to claim the Class 1A Columbia Regional championship.
The Eagles outscored their regional opponents 14-0, allowing just two total shots on goal.
Kennedy Jones scored three goals and added two assists in last Tuesday's 8-0 victory over Murphysboro.
Also scoring goals for Columbia were Sophia Bonaldi, Haley Glover, Jenna Jackson, Taylor Kaempfe and Reagan Mauch.
Jones has 22 goals and seven assists on the spring to lead Columbia.
On Friday, Mauch netted a hat trick with Chloe Graff scoring twice and Fae Harrell adding the other goal in a 6-0 shutout of Gibault. Graff added an assist and Harrell had two assists.
Columbia battled Roxana to open the Class 1A Columbia Sectional on Tuesday night. The result was not known at press time. With a win, the Eagles would take on the winner of Wesclin vs. Althoff in the sectional title game Friday night.
The winner of the Columbia Sectional advances to the Quincy Notre Dame Super-Sectional, which begins Tuesday.
Gibault (6-10) advanced to Friday's regional title game by virtue of a 1-0 victory over Anna-Jonesboro last Tuesday night.
Abby Phelps scored the game's only goal for the Hawks. She led Gibault in scoring this season with six goals and an assist. Kelly Papenberg finished with two goals and eight assists on the season.
In other local soccer action, Waterloo (10-4-4) opened Class 2A regional play at home against Centralia on Tuesday night. The result was not known at press time.
With a win, the Bulldogs would battle either Carbondale or Mascoutah for the regional title this Friday night.
Waterloo ended its regular season with a hard-fought 1-0 defeat at the hands of Mississippi Valley Conference rival Triad. Prior to this loss, the 'Dogs had gone 7-0-1 over the past month of games.
Sydney Luedeman leads Waterloo in scoring with 17 goals and five assists, followed by Mollie Zeisset with nine goals and five assists.
The winner of the Waterloo Regional advances to the Chatham-Glenwood Sectional, which begins Tuesday.