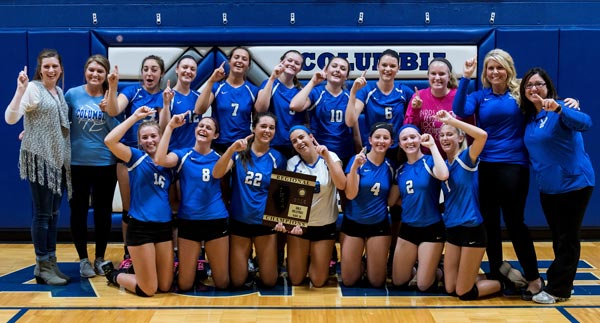 The first loss was the last loss this season for the Columbia High School volleyball team.
The Eagles entered Thursday's Class 3A sectional game at Mascoutah with a perfect 36-0 record. They came home with a season-ending loss at the hands of Mascoutah for the second straight year.
The Eagles dropped the sectional title game in two sets, 25-20, 25-22.
Columbia defeated the Indians in a Sept. 10 match this season, but Mascoutah was charged up by its home crowd in the sectional final.
"(This) loss was absolutely heartbreaking," Columbia head coach Kelly Landgraf told the Republic-Times. "We certainly had hope to continue with our amazing season. Unfortunately, we struggled to get any offense started. They shut down our hitters with great blocks. Most of the game, they had the momentum and we were constantly fighting to get ahead."
Tieghan Morio, who did not play in the Sept. 10 match, led Mascoutah with 11 kills.
Last Tuesday, Columbia opened sectional play by defeating Massac County in two sets, 25-10, 25-12.
Colene Hamilton finished with 10 points and 12 kills for the Eagles. Jordan Hausmann added eight kills and three blocks.
The 36 wins for this year's Eagles fell just one short of tying the single-season school record of 37 accomplished by Landgraf's 2005 squad. That team went on to place second in the state tournament.
Hamilton, who has signed a letter of intent to play sand volleyball at Central Arkansas, led the Eagles in kills this season with 342.
Hausman was second in kills with 226 and led the team in blocks with 96.
Elizabeth Fleming led the Eagles in points with 251. Kelly Metter led in digs with 395.
"I think it is important to recognize the amazing success this team has had over the last three months," Landgraf said. "I feel as a team we were extremely consistent in our play until the last game. For any team to play solid volleyball for 36 games says a lot about the dedication, commitment and work ethic of the team.
"While I hate for the season to be over, I know the girls will grow from this experience and always remember this season. And really that is what high school athletics is about, not the wins and losses."