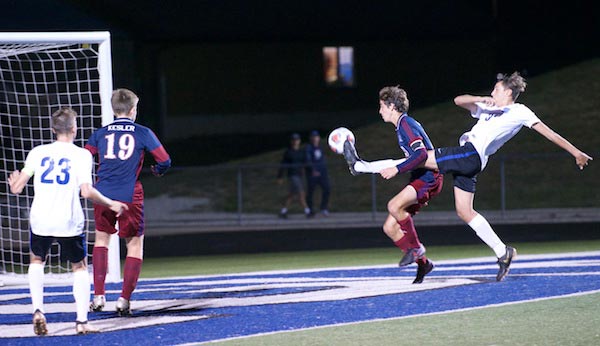 In recent soccer action, Columbia and Gibault renewed their rivalry last week, the Waterloo Bulldogs are barking loud in the Mississippi Valley Conference, and Valmeyer is hanging tough.
The Eagles and Hawks met for the second time this season last Tuesday at Columbia High School, with the Eagles emerging victorious, 1-0, in a tight battle.
Riley Hubler notched the game's only goal on a defensive miscue following an assist by Sam Spivey. Columbia goalkeeper Jon Kuebler made six saves, some of the spectacular variety.
"He's been huge for us," Columbia head coach Jason Mathenia said of his keeper.
Mathenia also noted Gibault's improvement since the first time the two teams met on Aug. 23. Columbia won that match, 3-0.
"They've definitely improved since the first game," he said. "It was a typical rivalry game." 
Columbia (13-0-2) followed that win with a 3-0 victory over Valmeyer on Thursday. Hubler notched two more goals and leads the team with 16 on the season.
The Eagles opened CYC Tournament play with a scoreless tie against Timberland on Monday.
Kuebler made two "phenomenal" saves, Mathenia said.
"I feel we didn't play our best, but Timberland is a pretty good team," Mathenia assessed.
Columbia played Clayton on Tuesday and will battle Triad on Wednesday.
Gibault (7-4-2) followed up the loss to Columbia with a 6-0 win at home over Freeburg on Thursday. Karson Huels notched two goals, with other goals coming from Zack Gillan,   Tim Murphy, Adam Stearns and Ryan Swindle.
Huels leads the team with eight goals and four assists.
Gibault head coach Darryn Haudrich thought his team battled neck-and-neck with the Eagles.
"I thought we had the better of the play, including possession and offensive chances the first half, while Columbia capitalized on their opportunity in the second half," he said. "Robert Lugge and Adam Stearns had strong performances in the match, and Aaron Grohmann nearly connected for a goal late but was stonewalled by Columbia's keeper, who came up big with the save on a volley."
Overall, Haudrich is pleased with his team's performance so far this season.
"We are well-rested at this time and healthy, happy with our match results so far and looking forward to the second half of the regular season," he said.
Gibault plays at Granite City on Thursday.
Waterloo (8-6) had its recent five-game winning streak snapped with an 8-0 loss at Lindbergh to open CYC Tournament play on Monday. 
However, the Bulldogs remain perfect in the Mississippi Valley Conference at 6-0 following recent action.
Brandon Schad and Caden Gordon netted goals in a 2-0 victory over Highland last Tuesday.
On Thursday, the 'Dogs edged MVC rival Triad in penalty kicks, 2-1. Justin Kohler scored a goal in regulation and Hayden Reese netted the winner in PKs.
Kohler leads the team with 12 goals and nine assists this season. Gordon has nine goals and six assists.
"We are really starting to gel as a team," Waterloo head coach Chad Holden said. "We started off the season with only one returning starter, so we told the players the first five games were going to be like exhibitions and that we would play everyone and then settle on a team after that."
Since the first five games, Waterloo has gone 7-2.
"Justin Kohler and Caden Gordon have really done a good job of getting goals for us," Holden said.
The coach also praised the defensive play of Josh Kaiping, Nolan Rick, Noah Mouradian, and Dalton Blanchard, as well as the goalkeeping of Sam Ward.
"I think we have surprised a lot of teams this year because of our graduation loss from last year," Holden assessed. "Our young guys have really contributed this year and our seniors have been great leaders for them."
Waterloo played SLUH on Tuesday in CYC tourney play.
Valmeyer (4-6) defeated Carlyle on Monday, 3-0. Andrew Whipple scored two goals with an assist.
Whipple leads the team in scoring with six goals and an assist. Ryan Brinkman is next with four goals and three assists.
The Pirates hosted Freeburg on Tuesday and will play at Wesclin on Thursday.