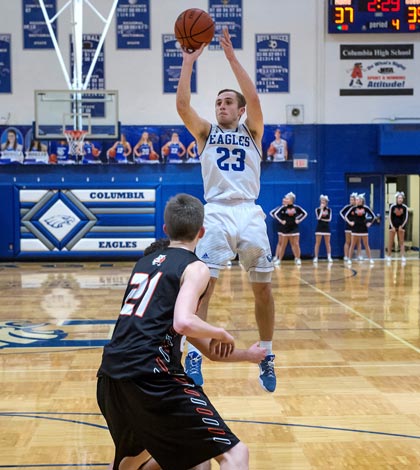 The Columbia High School basketball team ended its season in heartbreaking fashion on Monday night, falling to Jerseyville in overtime at the Class 3A Civic Memorial Regional, 40-39.
"Sometimes, Cinderella's slipper fits and sometimes it doesn't," Columbia head coach Mark Sandstrom said. "That's the way March Madness goes."
Junior guard Jordan Holmes drilled a three-pointer in the third quarter that put him over the 1,000-point mark in his Eagles varsity career. He led Columbia with 17 points. Jon Peterson added 12 points and 10 rebounds.
Both teams played tight early on in this low-scoring affair. Columbia led 15-7 at halftime.
"I thought we played good defense for the majority of the game, but we just came up short on the offensive end," Sandstrom said. "We didn't execute very well and when we did, we had passes get dropped or we missed easy shots."
Columbia missed some critical free throws near the end of the game that proved costly, allowing Jerseyville to make a three-pointer with 15 seconds remaining to take the lead.
The Eagles (14-15) ended their regular season with a loss at Triad on Friday, 58-43. Holmes again led the way with 22 points.
"We got off to a blazing start against a very good team on their senior night," Sandstrom said.
Columbia started strong out of the gate to go up 17-2. But Triad tightened things up defensively from there, and Columbia missed six second quarter lay-ups. Triad led 24-22 at halftime.
The Knights then went on a 9-0 run in the fourth quarter to put the game out of reach.
"I thought we were walking into a buzzsaw that night with them having eight seniors and with us already beating them once," Sandstrom assessed.
Overall, Sandstrom is proud of how this year's team fought hard every game.
"We played extremely hard when we weren't always the most talented team on the floor," he said.
Holmes averaged 21 points and eight rebounds per game this season. Peterson averaged 12.6 points and seven rebounds per game.
Sandstrom is already looking forward to next year's team, which will include Holmes as well as 6-foot-6 big men Peterson and Cole Khoury, plus five other players who contributed plenty of minutes this season.
"We have the potential to be very good, but the kids will have to put the work in during the offseason, which I'm sure they will do," Sandstrom said.