'Eagle Tree' downed in storm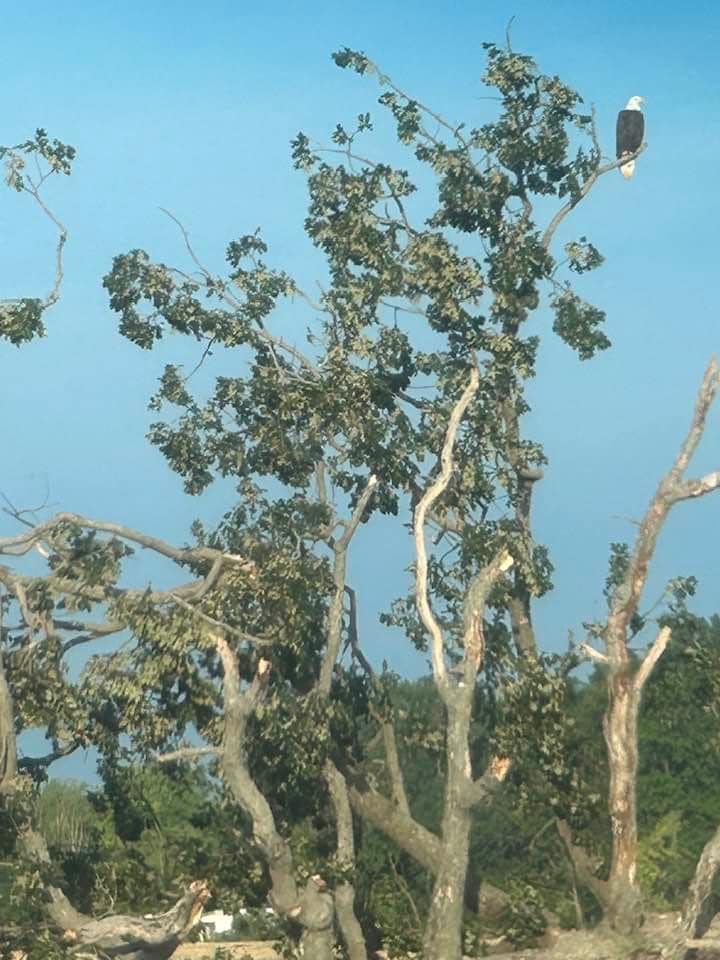 July was bookended by storms in Monroe County, with intense and sustained winds causing extensive damage and a prolonged power outage in Columbia at the start of the month and a weaker but nevertheless powerful storm packing a punch Saturday.
While many local residents continue to rebuild and repair damage inflicted by both storms, those who frequent Kaskaskia Road near Burksville find themselves mourning the loss of an oak tree that's become something of a landmark in recent years.
Dubbed the "Eagle Tree" due to its popularity as a resting spot for American bald eagles, the oak was tragically knocked over due to high winds that buffeted the county early Saturday evening.
The tree stood along Kaskaskia Road on the property of local farmer Don Schrader, who serves as president of the Monroe County Fair Association.
Schrader said the tree must be well over a century old, as it's stood as tall as it has for as long as he can recall.
"I remember the tree being full-grown and everything when I was a little kid when I played under it," Schrader said. "That goes back 70 years."
Schrader went on to say he expected the tree to come down at some point in the next few years given its weak roots and the fact that half of its branches have been dead for some time now.
Still, he didn't expect it to get uprooted during the storms over the weekend.
Schrader said it was a shame to lose the tree.
While it's been just another tree on his property for ages, in the last four or five years it's become a hot spot for eagles in the area – prompting many passersby to stop and take in the sight.
"It's right along Kaskaskia Road, and it's just became an icon for a lot of people that drive by," Schrader said. "They look for an eagle. There's been normally one, up to three at one time, bald eagles that land there. They would rest there, and sometimes they would dive down into my lake here and fish."
Though Schrader said he hasn't seen any himself, there has been at least one image taken of an eagle roosting in one of the high branches of the now fallen tree.
Schrader questioned whether or not the eagles will continue to make use of the tree now that it's down or if they'll seek sturdier branches elsewhere.
He added that he's currently entertaining the idea of replacing the tree with something of a comparable size – though he's not certain about it given the potential cost and difficulty of such a project.
"I'm thinking about probably, maybe – I gotta look into it, at this time I don't know anything for sure – a tree that would replace it since it was such a memorable tree," Schrader said.