Dupo officer returns home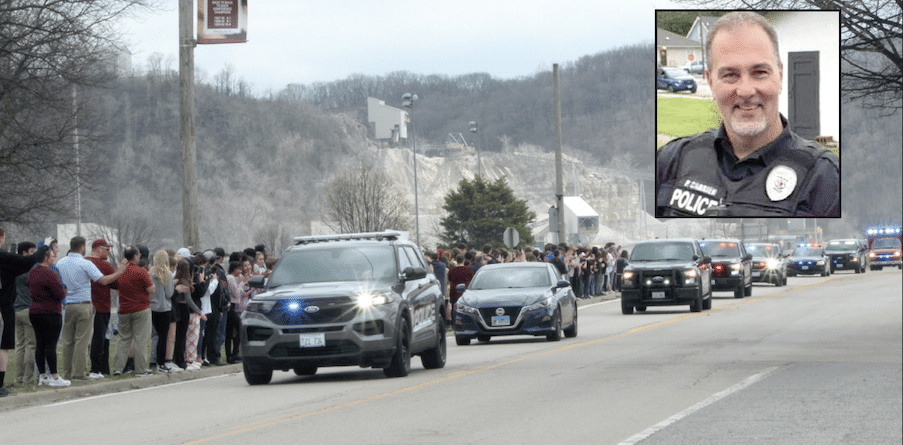 Just more than a week following a fatal shooting in Dupo, a police officer injured during the incident has returned home from the hospital – to much celebration from the community.
As reported last week, Dupo police officer Patrick Carrier was shot in the shoulder Feb. 26 by Reginald O. Allen, police said, shortly after Allen shot and killed Darryl T. Mantz on McBride Avenue near Dupo.
Allen was armed with an AR-15 and driving a Bobcat construction vehicle when the shooting was reported shortly before 1:30 p.m.
Carrier was rushed to Mercy Hospital South in St. Louis County, where he underwent two surgeries.
Shortly after noon Tuesday, Carrier was welcomed home with much fanfare. A procession of police vehicles and fire trucks departed from the hospital, traveling on I-255 east across the Jefferson Barracks Bridge to Dupo.
Once in the village, Carrier – traveling in an ambulance – was greeted by hundreds of individuals lining Main Street to welcome him home.
This came after a Dupo Village Board meeting Monday night during which Carrier was installed as a sergeant along with fellow Dupo officer Jesse Fulkerson.
During his stay at the hospital, Carrier, his family and the Dupo Police Department received a great deal of support.
His wife, Donna Wright Carrier, made a post on Facebook last week expressing her gratitude for the outpouring from the community, describing how overwhelmed the family was by the support.
"He's always said he had hundreds of brothers and sisters in blue who had his back, and he was not joking," Donna wrote. "You're all the best group of folks anyone could ask for."
That post, made March 1, also offered a positive update on his condition as well as particular thanks for her friends and Dupo Police Chief Dennis Plew, among others.
That same day, the Dupo Police Department posted on Facebook similarly expressing thanks for the kind thoughts.
"We would like everyone to know how much we appreciate all the prayers and support our department has received over the past few days," the post said. "The outpouring of care and concern has been overwhelming."
The post also noted the department had established an account opened to receive donations for Carrier at First National Bank of Waterloo at 107 N. 2nd Street, Dupo.
A barbecue fundraiser for Carrier was also organized and takes place at 11 a.m. this Sunday, March 12, at Dairyland, 501 S. Main Street in Dupo.
A visitation and funeral service was set for Wednesday for Allen, who was found deceased as a result of an apparent self-inflicted gunshot wound on his McBride Avenue property late the evening of Feb. 26.
Plew spoke with the Republic-Times shortly before it was announced Carrier would be returning home Tuesday.
He said that, besides the pain, Carrier was doing very well after undergoing two surgeries, remarking that "at this point in time, if you put clothes on him and sat him in a chair, you wouldn't know anything happened."
Plew added that one of the larger injuries Carrier could be dealing with is more mental than physical.
"It's a traumatic incident. I can't even begin to speak on the mental side of it, how that affects somebody," Plew said. "I know how it affects myself and people that are close to him."
Plew also spoke confidently about the possibility of Carrier returning to the department after he further recuperates.
"I know for a fact he's gonna have to go through some pretty lengthy physical therapy," Plew said, "so I guess after that's all completed they'll reevaluate, I'm sure they'll be evaluating along the way and make that final determination as to when. But at this point in time, they kind of feel like he'll be able to return to full active duty."
Plew said that to his knowledge, this was the first officer shooting in Dupo in recent memory.
He added that over the past week, counseling services were offered to those within the department.
"I think we've covered all the bases, and I think everybody's doing good," Plew said. "We still have a job to do. We'd like to just sit around Pat's hospital bed, sit and talk with him… Department as a whole, I think we're doing really good."