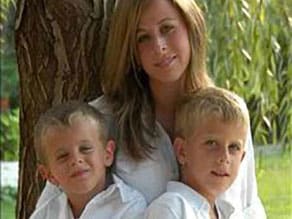 An appeals court on Tuesday sided with attorneys for the family of slain Columbia mother Sheri Coleman in remanding to Monroe County Circuit Court two of three counts of a wrongful death lawsuit naming the ministry for which convicted killer Chris Coleman worked.
Chris Coleman was employed as a security chief for Joyce Meyer Ministries at the time of the May 5, 2009 strangling deaths of his wife, Sheri, and young sons, Garett and Gavin inside the family's Columbia home. He was convicted on May 5, 2011 of all three murders and is serving concurrent life sentences in prison while the criminal case is under appeal.
In addition to naming Chris Coleman as a defendant in the wrongful death civil case, the family of Sheri Coleman included Joyce Meyer Ministries as co-defendant claiming it "knew or should have known" their employee was the source of death threats made electronically to himself and his family from a work computer. The ministry had established a "duty of care" to the decedents in that regard, the lawsuit alleges.
Last year, Judge Richard Aguirre sided with the ministry in dismissing the counts in Monroe County Circuit Court, citing foreseeability as a key factor.
"I cannot concede in any way how Joyce Meyer Ministries is guilty of foreseeing that an employee would kill his family," Aguirre said in his ruling.
But the Fifth District Appellate Court offered a different opinion, citing an electronic communications policy enacted by the ministry that governed its employees' computer use and gave ministry management sole discretion to take disciplinary action.
Televangelist Joyce Meyer
"Given the gravity of the threats, it was objectively reasonable to anticipate that some harm might come to (Sheri, Garett and Gavin Coleman)," the appellate court opinion states. "It may also be reasonable to infer that Sheri Coleman did not have an equal and independent means to investigate the threats, and that Sheri Coleman, relying on JMM's promises to investigate the threats and to provide security, did not take steps to protect herself and her children from the threatened harm."
The appellate court also cited cases in Illinois courts in which an employer was held liable for the negligent hiring, supervision or retention of an employee who intentionally harmed someone while acting outside the scope of their employment.
The case now returns to Monroe County, although a hearing date has yet to be scheduled.
"We obviously can't go back in time and bring this family back," Tony Romanucci, an attorney representing the Sheri Coleman family, told the Republic-Times on Thursday. "But we are pleased with this ruling."
Another attorney representing Sheri's family, Jack Carey of Belleville, said Tuesday's appellate court ruling was "a win for now, but we're only in the first or second inning."
Attempts to reach attorneys representing Joyce Meyer Ministries were unsuccessful on Thursday.
Read the Aug. 20 edition of the Republic-Times newspaper for the latest on this case.