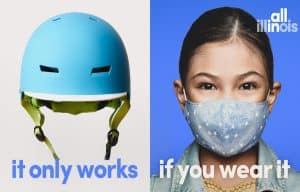 Monroe County is among 13 counties in the state currently at a warning level for the novel coronavirus disease, the Illinois Department of Public Health said Friday.
"These counties saw cases or outbreaks associated with businesses, long-term care facilities, large social gatherings and out of state travel," the IDPH explained in a press release. "There have been several instances of multiple cases among family members in the same, large household. Students returning to universities and colleges are also driving the recent increase in cases in several communities. Many students are not wearing face coverings or social distancing and are gathering in large groups and at bars."
This marks the second time the IDPH has listed Monroe County as being at the warning level.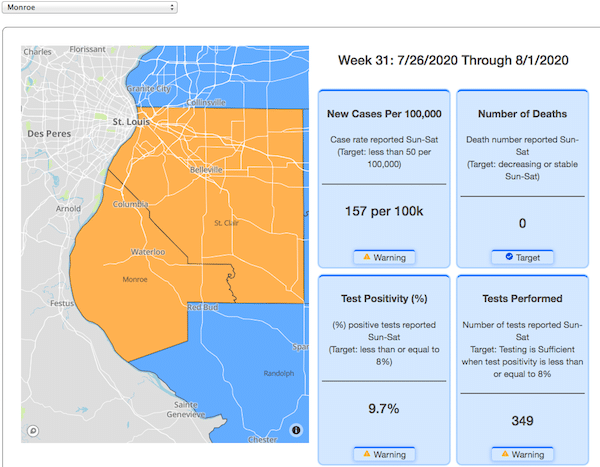 To make this determination, the department examines metrics including new cases per 100,000 people, number of deaths, test positivity rate, ICU availability, weekly emergency department visits, weekly hospitalizations, tests performed and the percentage of COVID-19 cases associated with clusters or outbreaks.
For the week beginning July 26, Monroe County did not meet the state's goals on cases per 100,000 (it had 157 and the goal is less than 50), positivity rate (9.7 percent of tests were positive and the goal is less than or equal to 8 percent) and tests performed (the county performed 349 and the goal is to do enough to meet the positivity rate standard).
These were the same metrics the county failed to meet the last time it was listed as being at the warning level.
This designation comes on the same day Gov. JB Pritzker announced new rules to provide enforcement options to ensure organizations comply with health guidelines as the virus surges again in Illinois.
Pritzker's administration filed emergency rules that apply to businesses, schools and child care establishments regarding the use of face masks and the size of gatherings.
Specifically, a business now will be given a written warning and encouraged to voluntarily comply with public health guidance. If it does not comply, it will be given an order to have some or all of its patrons leave the premises to comply with public health guidance and reduce risks. If it still refuses to comply, a business can receive a class A misdemeanor and be subject to a fine ranging from $75-$2,500.
Local law enforcement and local health departments will enforce these measures, Pritzker said.
Pritzker also announced a new penalty for assaulting or battering a retail worker who is conveying public health guidance like requiring individuals to wear a face covering or promoting social distancing.
Monroe County Health Department Administrator John Wagner said he did not anticipate those enforcement options being used much locally.
"Most of it's all done on an education basis," Wagner said of enforcement. "Most of our places have been pretty good, so I don't see that being a real big issue."
After stabilizing a bit last week, Monroe County's coronavirus cases spiked again.
The county's case total now stands at 327. Fortunately, the death toll remains at 13.
"While Monroe County has seen a slight increase in cases per day in the past few weeks, our hospital numbers have declined," Wagner said. "People need to continue to take precautions while in groups and wear masks in situations that put you in close proximity to others. The increase in cases have not been linked to any one behavior or business."
There were three new cases Tuesday, four new cases Monday, seven new cases each on Thursday, Friday, Saturday and Sunday and just one new case Wednesday. There were 12 cases last Wednesday, nine last Thursday, 10 on Friday, seven on Saturday, nine on Sunday, one on Monday and 11 on Tuesday.
According to Wagner, 58 cases are active and two county residents are hospitalized with the virus at last count.
Wagner said 210 people have recovered from COVID-19 and Monroe County has seen over 3,700 negative known tests for the virus.
According to the IDPH, the Waterloo zip code has had 143 cases (2,772 tests), the Columbia zip code has had 146 (1,205 tests) and the Valmeyer zip code has had 14 cases (150 tests).
As of Tuesday, Wagner reported 22 of the county cases have been among people under 18, 69 have been among people ages 19-29, 37 have been among people ages 30-39, 37 have been among people ages 40-49, 50 have been among people ages 50-59, 28 have been among people ages 60-69, 10 have been among people ages 70-73, 23 have been among people ages 80-89 and 15 have been among people ages 90 and above.
Wagner told the Monroe County Board on Monday that roughly 50 percent of the new cases are among people in their 20s who seem to contract COVID-19 at social gatherings.
"The health department expected and expects an increase in cases as people continue to return to work and other activities," Wagner said Tuesday. "The health department is doing all it can to contain the spread by contact tracing positives, quarantining individuals that are close contacts and asking the public to continue to continue to cooperate with the health department employees that are doing contact tracing. By the public continuing to provide contact tracers accurate information on contacts, we can have an increase in case numbers but still be able to keep outbreaks under control and return to life as normal as possible for the time being."
A few of the new cases have been in nursing homes, though the IDPH has not reported any more cases in Monroe County senior care facilities since last week.
The latest local senior care facility to report an outbreak was Integrity Healthcare of Columbia, which was reported last week to have 15 cases (no residents).
Also on the business front, the spouse of an employee of Waterloo Walmart told the Republic-Times last week that a worker in the grocery department of the store had tested positive. Multiple calls to Walmart in an attempt to confirm were not returned.
Last week, Arby's fast food restaurant in Waterloo was closed "for deep cleaning and restaurant maintenance," per a sign posted on its door.
Acorns Golf Links in Wartburg also had a sign posted on its clubhouse door last week that an employee had recently tested positive, resulting in the temporary closure of its kitchen.
Similarly, Tiny's Pub & Grill in Columbia recently closed temporarily after one of its staff members tested positive.
Overall, according to a county-specific tool from the IDPH designed to help individuals determine what activities they engage in and measure risk metrics, Monroe County is faring well.
Monroe County's neighbors are having problems.
To the north, St. Clair County has had 4,518 total positive tests and 158 coronavirus-related deaths as of Tuesday. A total of 45,683 tests have been performed there.
St. Clair County is also at the IDPH warning level, failing the same metrics as Monroe County.
In Randolph County, there have been 480 total confirmed cases, 42 of which are active. Seven people have died from the virus. A total of 6,741 people have been tested.
For the metro east region, spread of the virus seems to have slightly slowed, though the region is still at risk of having more mitigation measures implemented.
The seven-day rolling average of the region's test positivity rate is rising in the last three days for which data is available. It climbed to 7.4 percent on Aug. 8.
The region has seen a two-day increase in its seven-day rolling average for hospital admissions. It also has 32 percent hospital availability and 44 percent ICU bed availability.
Statewide, there are 196,948 cases of coronavirus and 7,657 deaths, according to the IDPH.
In Missouri, there are 60,935 confirmed cases and 1,312 deaths as of Tuesday. That includes 14,869 cases in St. Louis County and 5,190 cases in St. Louis City, according to the Missouri Department of Health & Senior Services.
Nationally, more than 5.1 million people have contracted the virus, while at least 163,215 people have died.
Worldwide, there are over 20.1 million cases of coronavirus and at least 736,647 COVID-19-related deaths.