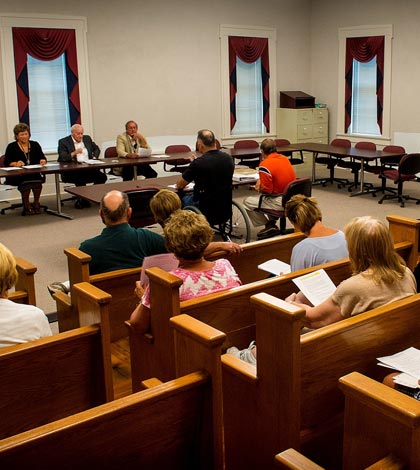 About 25 residents of the Brellinger subdivision in Columbia descended on the Monroe County Board meeting Monday to express dissatisfaction with their 2016 property tax assessments.
The concerned residents, led by Brian Estes, addressed their concerns and documentation to assessor Carl Wuertz, who was not in attendance.
They said past assessments had taken into account the values of homes in a larger area, including those of comparable size in nearby subdivisions.
Rather, they contended, Wuertz's office used the sale prices of only homes within the Brellinger subdivision rather than homes in "close proximity," a term used by the Assessor's Office. This provided a sample of only three homes, providing far too small a sample for a fair assessment of increased value, they asserted.
They said this resulted in exorbitantly higher property taxes to be paid this year.
Mark Altadonna, one of three members of the Monroe County Board of Review, attended and explained the board's methodology in reviewing requests to alter assessments.
The residents asked the commissioners to direct Wuertz and the review board to return to prior practices using comparable homes from outside the same subdivision, and to use a larger number of those comps for comparison.
The commissioners, while sympathetic, told those in attendance that Wuertz, as an elected official rather than a county employee, is not subject to their directions. They agreed with several citizens that their next step was to shift their appeal to the State Property Tax Appeals Board in Springfield, or, if they thought any laws had been violated, to talk to Monroe County State's Attorney Chris Hitzemann.
When contacted by the Republic-Times, Wuertz stated that since he did not attend the Monday meeting, he had nothing to say on the matter.
In other county board action, Monroe County Treasurer Kevin Koenigstein reported his office has received property tax bills and hopes to have them ready for printing by the end of the week. The tax bills will then be sent out via the U.S. Postal Service.
Monroe County Human Resources Director Annmarie Marcuson and the commissioners continued discussion of how the county will buy back vacation time accumulated by employees. They agreed the county will try to reduce the outstanding balance, valued now at about $240,000, by offering approximately $80,000 a year over the next three years with an added five percent bonus for employees choosing to sell back their vacation time. The new employee handbook specifies that future vacation time will be bought back after it exceeds 80 hours, and will not be allowed to build up as it has.
Monroe County Economic Development Corporation executive director Edie Koch updated commissioners on the first year of progress in the new organization. She noted the group, which started with 10 members contributing to operating costs, has grown to 25 such partners. The corporation, which is legally a 501c3 nonprofit group, is working to both attract new businesses to the region as well as to help ensure success for existing businesses.
Koch said telling the region's story is critical to achieving development goals, and said the group would soon launch a website to tell Monroe County's story to potential regional, national and international businesses and investors.
Gary Most, owner of Marketicity, brought a proposal for a new website for Monroe County to replace the existing site, www.monroecountyil.org.
Most said navigating the site to get information is not very intuitive. He added that the large number of people who access sites by mobile devices makes it critical that they are mobile friendly.
Marketicity's proposal is to develop the website for an initial fee of $3,960, with quarterly maintenance costs of $180. The commissioners decided to consider the offer before making a final decision.
Americom Imaging System's David Dillenberger brought the commissioners a proposal to remake the courthouse's information technology system for efficiency and security. The commissioners discussed his proposal, noting several departments in the courthouse currently employ Americom for their IT services, and encouraged Dillenberger to contact those not currently onboard with his firm.
The commissioners asked representatives of REJIS, the St. Louis-based Regional Justice Information Service, which provides web service to the county ambulance service, the Monroe County Sheriff's Department and Oak Hill, to come before them to discuss problems with service, which were raised by the sheriff's department and ambulance service. REJIS representatives acknowledged past issues and discussed current changes in progress to correct them. Commissioner Bob Elmore was blunt in telling the representatives they would be watched carefully and if improvements are not forthcoming soon they will be replaced.
Commissioner Vicki Koerber updated commissioners on progress to identify phone services no longer being used but still being paid for. She said about $7,000 in annual costs have already been eliminated, including for unused cell phones, pagers, air-cards and even dial-up modems. The board members discussed a process to better manage future changes as they occur.
Finally, commissioners invited citizens interested in proposals to increase to four lanes Route 3 to Red Bud, Route 154 to Pinckneyville, and Routes 13 and 127 to Murphysboro to attend a meeting on the possible changes at 9 a.m. Aug. 29, at Waterloo City Hall.
The Monroe County Board will next meet in regular session on Monday, Aug. 21, at the courthouse.