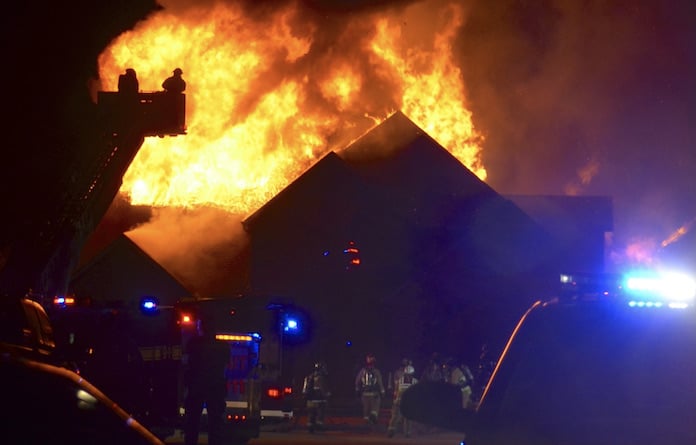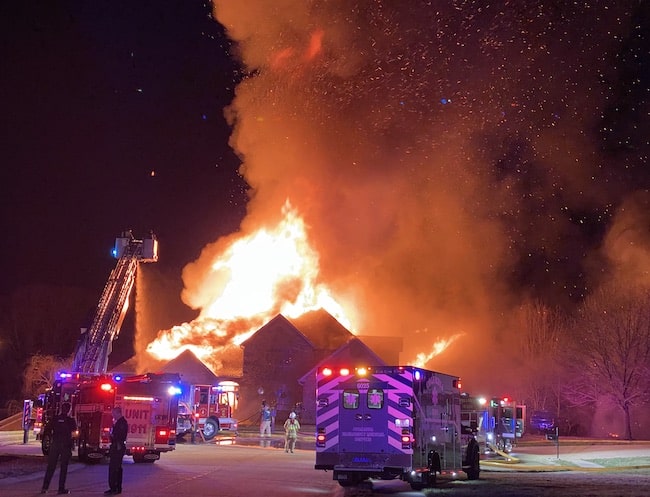 A well-known area auto dealer lost his residence and some pets in a tragic early Monday morning fire.
Flames ripped through a large home in Columbia as firefighters from multiple area departments battled the blaze.
The Columbia Fire Department responded to the report of a fully engulfed residential structure fire shortly before 2 a.m. at 818 Charlotte Avenue in the Stonegate Estates subdivision.
Upon arrival, heavy flames were seen shooting in the air, prompting mutual aid requests from such neighboring departments as Waterloo, Millstadt, Dupo, Prairie du Pont and Mehlville (Mo.).
"The fire was going pretty good when we got there," Columbia Fire Chief Mike Roediger said.
The Smithton Fire Department stood by at Columbia's engine house.
In all, about 75 firefighters responded to the scene.
The home belongs to Skip and Lori Weber.
Roediger said the Webers were sleeping in their bedroom when Lori saw a bright orange glow outside and woke her husband, after which alarms detected the fire and the two quickly evacuated with one of their three dogs.
The other two dogs perished in the blaze.
Roediger added that ammunition stored in a gun safe with the door left open ignited during the fire, as did four or five propane tanks used for outdoor heaters and fire pits on the Webers' back patio.
The office of the state fire marshal was requested to the scene.
Fire officials remained at the scene well into Monday morning. A few firefighters returned to the property shortly after 10:30 a.m. for a small rekindle.
The residence, a two-story brick home estimated at about 5,000 square feet in size, was a total loss. Vehicles in the Webers' garage surprisingly did not sustain much damage and may still be salvageable, Roediger said.
Skip Weber is the owner of the George Weber auto dealership, which has a location at 701 Old Route 3 in Columbia and other dealerships elsewhere in the region.
Roediger said the cause of the blaze is difficult to determine due to the extensive damage, but he believes it originated in the back of the home.
The Webers are staying at an apartment in the area temporarily, he said. The couple has three grown children who did not live with them at the time of the fire.
Roediger said firefighters had an adequate supply of water at their disposal to fight this fire, but since the burning residence was in the area of the last hydrant on the water line, the water pressure was impacted negatively in attempts to use a second hydrant to extinguish the blaze.