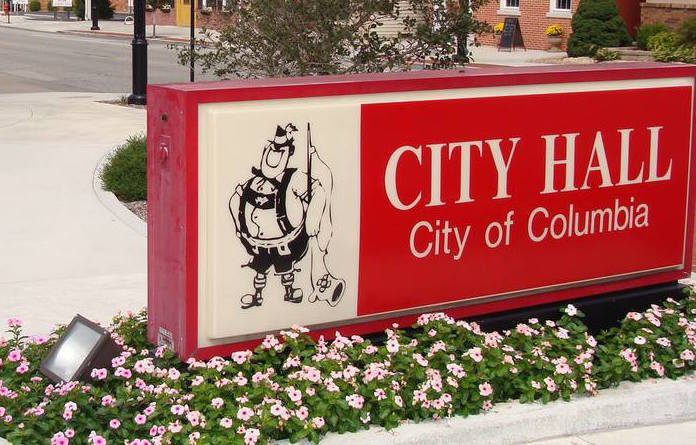 Though five seats among Columbia's four aldermanic wards are on the April 4 ballot, only two are contested.
Incumbent Alderman Jay Riddle is challenged for his Ward I seat by Paula Hutchinson while in Ward II, Lauren Nobbe seeks the seat of incumbent Kevin Martens.
WARD 1
Jay Riddle
Riddle, 53, is running for re-election as Ward I alderman. He has been married to wife Debby for 31 years and said his son and daughter both attended Columbia schools.
Riddle said he currently works in a local business in town. He's also a member of Turner Hall and was previously with the Columbia Volunteer Fire Department – a group he keeps in touch with when they have propane and fuel troubles thanks to his affiliation with the National Propane Gas Association.
As he seeks re-election, Riddle said, "I love the city I grew up in." Riddle added that he feels much has been accomplished in his first four years as alderman and he would like to "keep on serving."
Riddle added that, in a second term, he would hope to improve transparency between voters and the city, complete projects for his ward and keep property taxes low.
He said the key issue in this race, to him, is knowing what the voters want, as "an alderman has to listen to the people in the community."
Riddle also said he stands out in the race as he has lived in Columbia his entire life and has watched the town "grow from what it was to what it is now."
Paula Hutchinson
Hutchinson, 55, is also running for the Ward I aldermanic position. She is a wife and mother of three children.
Hutchinson said she is currently a branch sales director for a national company as well as a "trusted liaison and advisor for hundreds of companies."
She is also co-founder and previous president of Helping Strays of Monroe County. Hutchinson is with Sister Cities of Columbia and has experience as a previous Columbia PTA member volunteer.
Hutchinson said she is vying for the Ward I seat because "it is time for someone to listen to the community, communicate with the community and bring their voice to the city council."
Further emphasizing her goal of being the community's voice, Hutchinson added she offers her "success as a high-level executive to communication education and listening."
Hutchinson identified the home rule referendum as this race's big issue, and she has made efforts in her campaign to further educate on the matter.
She said her lifelong Columbia residency along with her love for the community and fresh perspective help her stand out from her opponent. She further pointed to experience and success with Helping Strays, saying she "helped build an organization that has saved thousands of animals, developed community and education and animal welfare programs and has saved taxpayers thousands of dollars."
WARD 2
Kevin Martens
Martens, 65, hopes to keep his aldermanic seat in Ward II. He is married to wife Rhonda and the couple have two kids and two granddaughters.
He graduated with a degree in accounting from Eastern Illinois University.
While currently retired, Martens said he worked for 32 years with the U.S. government as a criminal investigator working mainly on money laundering investigations and asset forfeiture with the DEA and U.S. Attorney's Office. He also assisted and testified on numerous federal court cases.
Martens said he is running for a third term as he has lived in Columbia for 30 years and is "excited to be involved in a lot of changes for the good of Columbia." He added there are a number of major decisions that need to be made in the future, such as new locations for the police department, EMS and fire department.
He said one of his goals, if re-elected, would be getting the emergency services relocated. Martens also spoke about a possible sports facility, expanding walking trails and establishing a dog park.
Those issues are a focus for him in this race, Martens said, adding that "we need to establish how to grow and expand Columbia, land-wise."
Martens also said he stands out in this race for wanting to "continue seeing the best for Columbia." He said growth and expansion is a goal for him while keeping the community's identity and values.
Lauren Nobbe
Nobbe, 36, is running for the Ward II position. Nobbe said both her and her parents were born and raised in Columbia. She also mentioned her "rescued fur babies" as family.
Nobbe graduated from Gibault Catholic High School, later majoring in historic preservation at Southeast Missouri State University.
Nobbe previously owned Agnes Ross boutique, worked at KSDK and spent one year at Triada Advisors before transferring to Mid America Contracting. She is also the City of Columbia Plan Commission Secretary and a founder of the Main Street Business Association.
Nobbe said she's running in Ward II as it's long been an aspiration for her. Nobbe spoke to her experience with and passion for local small businesses and her goal of helping both them and the wider community thrive.
Nobbe further spoke to her election goal of assisting and communicating on behalf of local small businesses and the community as a whole while having a "my door is always open" philosophy.
She noted the key issues in this race are the question of home rule, the development of Columbia's parks and trails and local businesses.
Nobbe said she stands out because the community of Columbia is "my history and my future." She spoke about wanting to honor the past while preparing for the future, adding she wants future generations to have what she had growing up while current generations can be proud of their community.