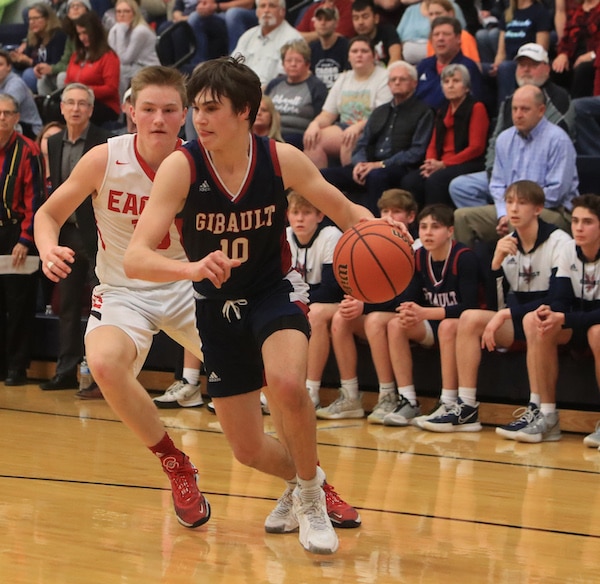 Not many gave the Gibault Catholic High School boys basketball team much of a chance against highly-ranked Liberty going into last Tuesday's Class 1A White Hall Sectional semifinal game.
But that's why they play the game – and the Hawks sure came to play.
In the end, Liberty (26-5) survived with a 44-41 victory on a three-pointer at the buzzer to end the season for Gibault (22-10).
Liberty went on a 12-0 run to start the game, but the Hawks used their trademark physical defensive play to climb back in it.
Gibault was only down 22-21 at halftime.
Liberty again built up what looked to be a safe lead, 37-26, early in the fourth quarter, only to see the Hawks fight back to tie it late.
A barrage of three-pointers from Gibault's Kaden Augustine, Kameron Hanvey and Ian Bollinger led the comeback.
A free-throw by Gibault senior Owen Scherff tied the contest at 41-41 with just 1:20 left in the fourth quarter.
But Liberty capitalized on its final possession, with Cannen Wolf sinking a dramatic three-pointer as time expired to survive and advance.
"We were not very good defensively early," Gibault head coach Dennis Rueter assessed. "(We) turned it over more than we would like but made some threes late and we were awfully resilient, which has been a trademark of this team."
Augustine, a junior, led the Hawks with 12 points on the night.
Hanvey, also a junior, had nine points and five steals.
Playing their final game for the Hawks were seniors Ian Bollinger, Jude Green and Scherff. Bollinger averaged 6.8 points per game. Green averaged 7.3 points and 7.6 rebounds per game. Scherff averaged 3.1 points and 2.6 rebounds per contest.
The Hawks sat at 7-5 on the season following a loss to Marquette on Dec. 28, but put together a seven-game winning streak and won 12 of 15 games that was capped off with a 54-52 victory at home over rival Waterloo on Feb. 12.
Augustine and Hanvey will return next season to lead the Hawks, who will look to build on this year's success.
Augustine averaged 14.1 points per game this season and shot 39.6 percent from three-point range.
Hanvey averaged just under 10 points per game in addition to 2.10 assists and 2.33 steals per contest.
With 22 victories this season, Rueter now has a total of 764 career wins at Gibault to go along with 15 regional championships.
Gibault has 16 total regional titles in boys hoops.
To read about Gibault's regional championship victory Saturday night that led them to the sectional, click here.