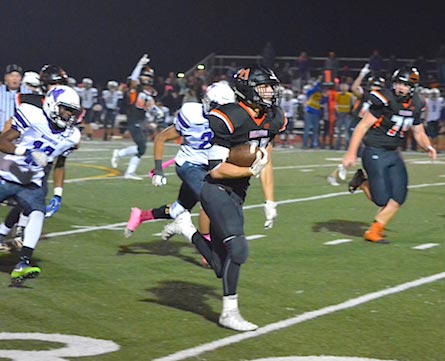 The Waterloo High School football team secured a playoff berth with a 26-14 win at home Friday night against Mississippi Valley Conference foe Mascoutah.
Running back Scott Nanney rushed for 183 yards and two touchdowns and Michael Toth turned in two key special teams plays in the victory, which improved the Bulldogs to 5-3 on the season. Based on Waterloo's high number of "playoff points" in the IHSA postseason system — the number of combined victories of all opponents — the Bulldogs will return to the playoffs after missing out last season.
"We're in," Waterloo head coach Dan Rose said after the game. "We have the most playoff points in Class 4 and 5A, so we're in. It was a big win for us tonight."
A muffed punt by Waterloo gave Mascoutah an early chance to score, but a short Indians field goal attempt was blocked by Toth.
After being stopped at Mascoutah's 2 yard line, the Bulldogs defense forced a Mascoutah punt and got the ball back at the Indians 31 yard line. This time, Waterloo was successful on fourth down and short as quarterback Ross Schrader scored from one yard out to make it 7-0 at 11:15 of the second quarter.
A Mascoutah scoring drive late in the first half was thwarted by a Noah Comstock interception, and the 'Dogs led 7-0 at halftime.
The Bulldogs took the opening drive of the third quarter to the endzone, with passes of 11 and 20 yards to Austin Patton, a 16-yard run by Nanney and an 11-yard TD score by Nanney to make it 14-0.
On the ensuing possession, Mascoutah was forced to punt deep in its own zone and it was blocked by Toth, who picked up the loose ball and ran it 15 yards for the score to give Waterloo a 20-0 lead at 8:04 of the third.
The Indians answered with a long TD drive to make it 20-7 at 4:43 of the third quarter.
But Nanney — one of several senior Bulldogs honored on this night — showed off his breakaway speed on a 45-yard TD run to start the fourth quarter.
Mascoutah added a late score and got the ball back on offense after a three-and-out by the 'Dogs, but Mason Newbury's interception sealed the victory for Waterloo.
The Bulldogs play at Mater Dei next week to close out the regular season.