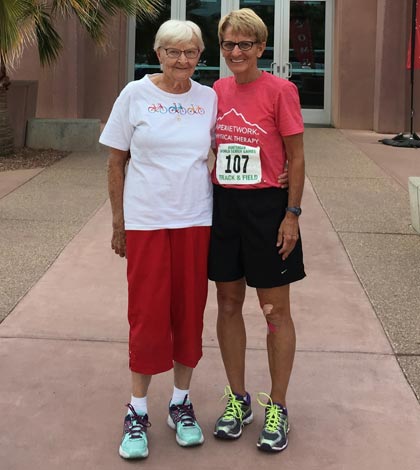 Retired Waterloo High School track coach and teacher Barb Borger had the time of her life competing last month at the Huntsman World Senior Games with her mother along for the ride.
Borger competed in eight events at the games, which took place at Dixie State University in Utah. She took first place in the standing long jump and 100 meter run, earned second place medals in the 50, 200 and 400 meter runs, placed third in the javelin, and placed fourth and fifth in the shot put and discus, respectively.
With a jump of six feet, nine inches, Borger easily won gold in the long jump. 
"I was the only woman to jump over two meters," she said. "I set a high standard right away."
Borger competed in the women's 60-64 age division. In all, there were 11,000 athletes representing 69 countries at the games.
"Everyone is just kind to everybody there," Borger said. "It's all about being friendly and gracious to others."
Borger even saw a familiar face at the games. Cyndi Kelly, herself a retired Waterloo teacher and coach, was competing at the Huntsman games with a softball team that earned the silver medal.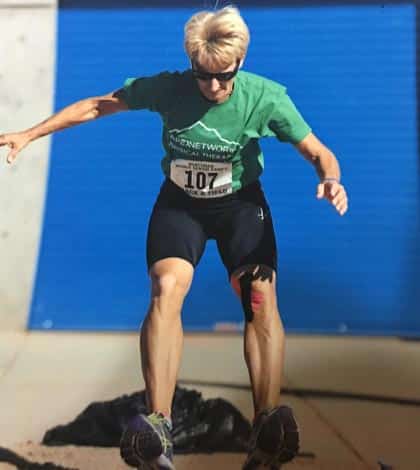 "It was pretty neat to run into a familiar face there," Borger said.
Borger, who resides in Freeburg, retired from WHS in 2014 following 29 years in the school district and 34 total years in education. 
She started training for the Senior Olympics last year at ATI Physical Therapy in Freeburg and was introduced to 85-year-old Ron Jelinek. With more than 1,000 medals in senior athletic competitions, Jelinek served as Borger's coach in the training process.
"He certainly knows what he's doing," she said.
Although Borger qualified for the national Senior Olympics during regional events in Missouri and Illinois, a severe hamstring injury prevented her from competing.
Borger endured 17 weeks of recovery at Apex Physical Therapy in Belleville.
Following her rehab, Borger competed this past August in the Silver Games in Perryville, Mo., and performed well. So, she decided to give the Hunstman Senior World Games a shot.
"I knew I had the potential to be a gold medalist in the long jump and could finish in the top 10 in other events, so that's what motivated me," she said.
Borger was planning to fly to the Huntsman event, but coordinating the transport of her javelin to the games presented a logistical dilemma.
"My mother said she would go with me if we drove, so I decided to go that route," Borger said. 
The trip became a true bonding experience for Barb and Marilyn Borger.
"To have my 88-year-old mother there to be a part of it was extremely gratifying," Barb said. "She had a great time being a mother, and I had a great time competing."
With multiple medals to show for her recent success, Barb said she is already thinking ahead to the 2019 Senior Olympics in New Mexico. Regional qualifying events take place next year.
She also plans to compete again in the Huntsman World Senior Games.
"I think they got me hooked," she said.