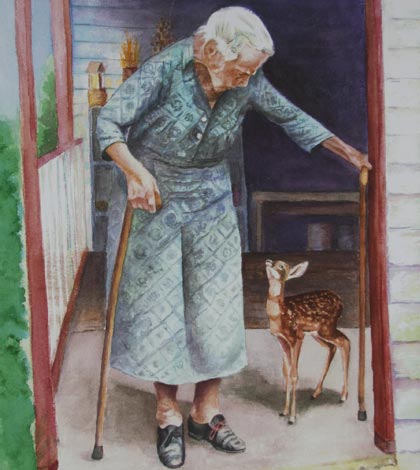 No artwork, museum exhibit or display could do justice in recreating and memorializing the life of the late Emma Buck.
But with an art show slated for this Sunday at the Henke-Buck Ancestral Farm, located at 3373 Ahne Road in Waterloo, Buck's friend and historian Annie Rieken said she hopes to in some way showcase the innocence and child-like wonder Buck held onto even into her later years.
"I wonder sometimes in modernity if we've lost our capacity for wonder or enchantment," she said. "Everything is so 'right now,' and 'it's all about me.' And we get impatient if our app doesn't open up right away.
"But (Emma's) artwork takes me back to the frame of mind of an innocent girl with wonder. And she did this as a little girl because she liked doing it. She wasn't getting paid for it. It was just from the heart. She couldn't express herself, but she could put it on paper."
For instance, Buck took a picture of a bunny in a boot and sketched her own rendition of it that includes the bunny with a mischievous look on its face as it eyes a basketful of carrots and other goodies.
"Someone would give her a photo and say, 'Oh, can you copy this?' And she would take it and turn it into a story," Rieken supported.
Buck, who lived beyond 100 years of age, spent her entire life sequestered on a pre-Civil War era farm where she used only handmade tools, kept every family heirloom — including her grandmother's wedding dress — and never married. She began sketching different scenes, people and animals at age 6, and continued that passion into early adolescence.
"She would lay down on her stomach right here because of the sunlight coming in from both (the window in the adjacent room) and the front door," Rieken said, motioning to the entryway to the farmhouse. "And one day grandma was coming in with a basket full of laundry and didn't see Emma laying there, so she tripped over her and they were both seriously injured.
"And that's when her drawing came to an end because her grandma said, 'Farm girls shouldn't waste their time on such things!'"
Buck displayed signs of Asperger's syndrome, a mild form of autism, and so processed people's emotions and social cues differently. One woman, Joyce Neutzling of Red Bud, spent the last four years of Buck's life attempting to capture her personality and other aspects of the Henke-Buck farm with watercolor painting.
"It was kind of interesting," Neutzling said of how she met Buck. "We were painting at Old Baum Church and Annie came by and said, 'I know an old lady that would like some company, and she used to draw. So we stopped by there, and I thought, 'Oh I would like to paint here,' and I started to come back a couple times a month."
Neutzling will also showcase her art at the event, which runs from 10 a.m. to 6 p.m. Cost is $2 per person, $7 per car or $5 plus two cans or boxes of non-perishable food being donated to Hope Christian Church food pantry. Proceeds from admission costs will go toward the preservation of Buck's artwork.
The event includes live music, desserts and drinks with mid-19th century toys on display. There will also be a barn restoration craftsmen available to answer questions. For more information, contact Rieken at 618-977-8194 or email henkebuckhomestead@gmail.com.
Rieken, whose health concerns encouraged her to have this public viewing of Buck's art, is amazed at the drawings Buck produced at such an early age.
"It took Emma a while for her to let me see her art," Rieken said. "She was hesitant to show me because she wasn't sure how I would react. Of course, I was so proud for her to know she had that kind of eye for detail."