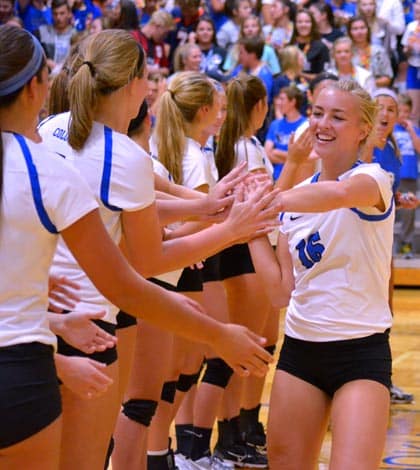 Monroe County is rich with volleyball talent, as Columbia and Valmeyer proved with conference and regional titles and teams such as Waterloo and Gibault showed on multiple occasions.
Here's a look at this year's Republic-Times All-Local Volleyball Team.
FIRST TEAM
Colene Hamilton (Columbia) – This heavy hitter ranked among St. Louis area leaders in kills with 348, earning state all-star honors and a NCAA Division I beach volleyball scholarship to Central Arkansas. Hamilton added 163 points and 309 digs for the 36-1 Eagles.
Kelly Dooley (Gibault) – Another heavy hitting senior, Dooley led the Hawks in most categories, including kills with 311. She added 144 points and 320 digs.
Elizabeth Fleming (Columbia) – A strong setter for the Eagles, Fleming finished with 254 points, 216 digs and 721 assists.
Jordyn Killy (Valmeyer) – An all-around team leader, Killy finished with 241 kills, 112 digs and 64 blocks for the Pirates.
Kat Finnerty (Waterloo) – Another senior on this list of talented local spikers, Finnerty provided a strong presence at the net for the Bulldogs. She recorded 191 kills and 81 blocks this season.
Jordan Hausmann (Columbia) – Yet another Columbia player worthy of first team honors, Hausmann had 232 kills, 189 points and 97 blocks for the Eagles this season.
SECOND TEAM
Sam Kruse (Waterloo) – Another solid player on a strong Waterloo team, Kruse finished with 285 digs, 174 points and 153 kills.
Guin Kohnz (Valmeyer) – Only a sophomore, Kohnz provides a bright future for the Pirates. She had 428 assists, 198 service points and 170 digs this season.
Kelly Metter (Columbia) – The stats don't tell the full story for Metter, who was a solid piece of the puzzle for the Eagles this season. She finished with 410 digs, 39 blocks and 135 points.
Hannah Cope (Waterloo) – A valuable asset to the Bulldogs this season, Cope led the way with 496 assists, 252 digs and 131 points.
Alyssa Yochum (Columbia) – Yet another talented player on a dominating team, Yochum finished with 195 kills and 88 blocks for the Eagles.
Blair Brady (Valmeyer) – The Pirates called on Brady to play at the outside hitter and setter positions, and she didn't disappoint. Brady had 174 points, 121 kills, 259 assists and 65 blocks.
HONORABLE MENTION
Megan Gilliam (Waterloo), Skylar Geske (Waterloo), Genna Bourgeois (Waterloo), Bailey Lehmann (Gibault), Caralyn Papenberg (Gibault), Hillary Wessel (Gibault), Sam Seidel (Valmeyer), Jessie Seidel (Valmeyer), Cierra Goldschmidt (Valmeyer), Savannah Williams (Valmeyer), Shea Bradshaw (Columbia), Sydney Bullock (Columbia), Skylure Barlow (Dupo), Megan Brown (Dupo)