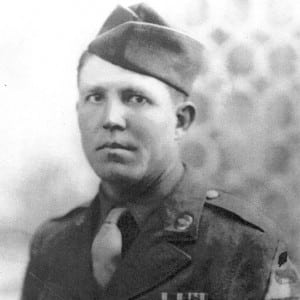 Native son Lewis Koch left his home in New Hanover to serve in the U.S. Army in World War II, one of 16 million Americans who made similar journeys.
But Koch's life was cut short when he was killed in the fall of 1944 as Allied forces pushed deeper into Germany toward Berlin. His place of death is officially listed as "near Baesweiler, Germany," but little else is known. He was buried, along with 8,300 fellow Americans, in the Netherlands.
Although Koch never made it home, he is far from forgotten on either side of the Atlantic Ocean. And now there's a face to go along with his name.
He is buried at Netherlands American Cemetery and Memorial at Margraten. Although the cemetery is maintained by the American Battle Monuments Commission, the men buried there have all been adopted by Dutch locals who visit the graves and bring them flowers.
A recent initiative to pair the graves of fallen American soldiers with photos led to a hunt through local archives and brought Koch's sacrifice back to light.
"There is a non-profit group in the Netherlands which has created a website filled with the stories of the U.S. GIs buried there," explained Teresa Hirsch, a local transplant now living in Indianapolis, Ind. "In early May there will be an event called  'The Faces of Margraten.' The photo they have of the person will be placed next to their marker. Then European neighbors will be invited to see the faces of their liberators. Last year, 25,000 accepted that invitation and came to the cemetery."
Hirsch is a volunteer helping track down some of these photos, and contacted the Republic-Times over the weekend asking for help locating a photo of Koch.
"I was hoping a story would entice your readers to help find one," Hirsch explained. "Maybe they have a scrapbook or yearbook… or have access to digital archives? And maybe there is family still in the area who would like to know of the honor the Dutch bestow upon him."
She also sent a message to the Monroe County Genealogical Society, which published a book on Monroe County veterans back in 2008.
Vern Ritter and Jan Wenk are society members who worked on the book. Ritter, a veteran himself, had kept digital images of all photos included in the book and a quick search revealed a photo of Koch in his Army uniform. Ritter emailed that photo to Hirsch.
"Twenty-five minutes later it was on the Internet from the Netherlands already," Ritter said.
Fellow society member Wenk also helped out, typing Koch's biography and sending it on to Hirsch. That information includes Koch's parents' and siblings' names and his place of birth.
"This all transpired on Saturday, April 2. On Sunday, April 3, at 11:09 a.m., Terry had sent an e-mail to us with the link to the cemetery database, and Lewis H. Koch's photo and information was now included and could be viewed by all," Wenk said.
Hirsch will travel to the Netherlands in May for the "Faces of Margraten."
To view Koch's entry on the Fields of Honor website, visit www.FieldsOfHonor-Database.com and click "Margraten," then search for "KOCH, Lewis H" in the alphabetical database.
For more information on Margraten and the other overseas cemeteries where more than 200,000 World War I, World War II, Korean War and Vietnam War American military personnel are buried, visit www.abmc.gov.