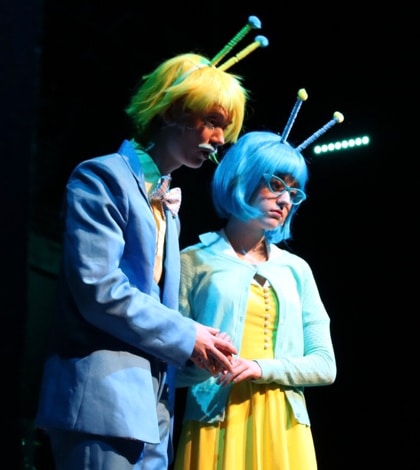 Noah, Benjamin and Madison Parker of Columbia knew how to perform for a live audience when they auditioned for a recent musical with Ignite Theatre Company in St. Louis.
Each kid participates in plays at their schools, and, on top of that, they had taken part in some of the other plays with Ignite. 
But a Dec. 5 play at .Zack theater in St. Louis proved much different than past performances.
The three found themselves in a sensory performance of "Seussical," along with Madison Naumann, Olivia Diaz and Sam Mueller, all of Waterloo. The sensory play catered to the needs of children with autism or those on the spectrum.
"As far as we could tell, it was a really great success," play director Kimberly Kavanagh said. "A lot of families emailed after the play to say how much their kids enjoyed it.
"And a lot of them had never been to a play before and can't get out much so it was great that they were able to do something like this."
According to Kavanagh, turning the play into a sensory performance involved such accommodations as including less microphones to tone down the sound, having less seating and including toys for children in the audience.
She said Ignite's first sensory performance was free. Additionally, each child in the audience was given a t-shirt, stress ball and Seussical pencil. 
Ignite worked with LoveU2Pieces for the event.
LoveU2Pieces, a St. Louis non-profit, provides support to families living with high-functioning autism spectrum disorders. Sam, 17, said he had been in an earlier play with Ignite and loved the idea of doing another performance with the company. 
"The group was so welcoming and accepting. I was excited about doing another show," he said. "But they didn't tell us about the sensory part until after the audition. 
"When I heard about it, I thought it was a cool thing to do. I had never heard of something like that before."
Madison Naumann, 14, agreed, saying "they put everyone first. They care about everyone around them."
For Olivia, 14, the relationships she has built in Ignite keep her coming back for more performances.
"It's great because there are a lot of people in my age group, and I've been getting along with them. I really like all the friendships I've made from doing this," she said. 
She and Madison Parker, 13, played Bird Girls throughout the play, serving as the narrators moving the plot along. Sam and Olivia were Mr. and Mrs. Mayor of Whoville.
Meanwhile, Noah, 10, was a Who and Benjamin, 7, played a dog. Madison Parker said quieting her stage voice to not overstimulate the kids in the audience required practice.
"Interacting with the audience, though, was easy because they were all so into it," she explained.
Noah, however, said he didn't need to make many adjustments.
"It wasn't what I imagined. It wasn't as different as I expected it to be," he said.
Regardless of how different the performance seemed, Kavanagh said the Monroe County kids gave an excellent performance. 
"They were awesome. So we prepared all the cast members by letting them know there might be distractions in the audience," she said. "They were completely professional on stage. They didn't let anything distract them. 
"And they were really excited about all of it. The audience got to meet the cast and take pictures with them and you could tell they were enjoying it. There were actual squeals of delight."
Of the kids in the audience they met, Madison Naumann said a little girl named Laney stood out the most. 
"She really cared about everyone and she loved the Bird Girls. She kept giving us lots of hugs and wanted to hang out with us," she said. "And when her mom said it was time to go, she didn't want to."
Moving forward, Ignite will continue with sensory performances. "Annie Jr." is the next such performance on April 17.
"I would definitely do it again," Sam said, with Madison Naumann and Olivia agreeing.
Madison Naumann added that the performance is making her consider becoming a performer.
"It's a one-time experience. Nothing is ever going to be the same," she said.