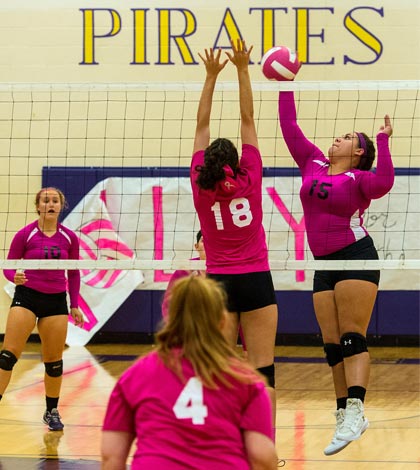 Local high school volleyball squads are fine tuning their fundamentals in preparation for the postseason, which begins next week.
Valmeyer is riding high at 23-9 following a three-set win Monday night at Gibault. The Pirates dropped the first set to the Hawks, 25-20, before storming back to take the match.
Valmeyer is riding high at 23-9 following a three-set win Monday night at Gibault. The Pirates dropped the first set to the Hawks, 25-20, before storming back to take the match.
Jessie Seidel recorded 14 kills and Guin Kohnz added eight points and 23 assists to lead Valmeyer.
Ashlyn Wightman led the Hawks with 10 kills.
On Thursday, Valmeyer and Dupo played their annual pink-themed "Volley for the Cure" match as part of Breast Cancer Awareness Month. The Pirates won in two sets, 25-9, 25-15.  
Jessie Seidel finished the first set with five aces. She also led Valmeyer in kills with nine, followed by Sam Seidel and Gwen Panzau with four kills. Kohnz had 18 assists and six aces. 
Last Tuesday, the Pirates dropped a hard-fought, three-set match against Red Bud.
"We played well the first set, but then lost the momentum at the start of the second set," Valmeyer head coach Jenny Kohnz said. "Red Bud started off on a 6-1 run, and we were chasing them the rest of the game."
The Pirates played Steeleville on Tuesday and will wrap up the regular season Thursday at Lebanon. 
Valmeyer will play in the Class 1A Okawville Regional against the winner of Patoka vs. Sandoval on Oct. 24.
Guin Kohnz leads Valmeyer with 187 points and 628 assists; Jessie and Sam Seidel are tops in kills with 255 and 223, respectively.
Also in Class 1A, Gibault is in the New Athens Regional and will play Steeleville on Oct. 24.
The Hawks went 1-3 in the Freeburg tournament over the weekend, picking up a victory over Okawville in three sets with losses to Freeburg, Chester and Nashville.
Haley Davitz posted 12 points, with Lexi Chambers and Ande Grohmann adding seven kills each in the win.
Gibault plays at Freeburg on Wednesday and will be in the Mt. Pulaski tournament this weekend.
Waterloo is 14-14 following Freeburg tourney play. The Bulldogs topped Benton and Nashville, but lost to Teutopolis and Chester.
Skylar Geske was selected to the all-tournament team.
"We are exactly where I anticipated us to be," Waterloo head coach Angie Crawford told the Republic-Times. "Our girls work very hard when they put their minds to it.  We've had some growing pains learning to play together and living up to our roles on a consistent level. I am extremely proud of the growth of all our girls this season. We are moving in the right direction exactly at the right time."
Hannah Cope leads the team in kills with 204, and is tied with Geske for the lead in points with 137. McKenna Krebel leads in assists with 275.
"Our defense and serve receive have been strongly led by Skylar with superb performance and effort," Crawford said. "McKenna and Hannah have done a super job leading our offense."
Waterloo played at Highland on Tuesday and will be at Collinsville on Thursday.  
The Bulldogs are in the Class 3A Mascoutah Regional with cross-county rival Columbia. Waterloo opens with Mascoutah on Oct. 23. Columbia will take on Cahokia on Oct. 23. 
Columbia (20-10) placed third in the Freeburg tourney with wins over Collinsville, Nashville and Greenville. The Eagles dropped a match against Teutopolis.
Last Tuesday, Columbia lost a conference match at home to Freeburg, 25-23, 25-23.
Molly Mistler, Paige Becker, Mia Valleroy, Haley Mathews and Ellie Stone are among the team leaders for the Eagles this season.
In Class 2A, Dupo hosts its own regional and will play Marquette on Oct. 23.
The Tigers (4-18) are led in points by Kassidee Keys and in kills by Courtney Stanek.