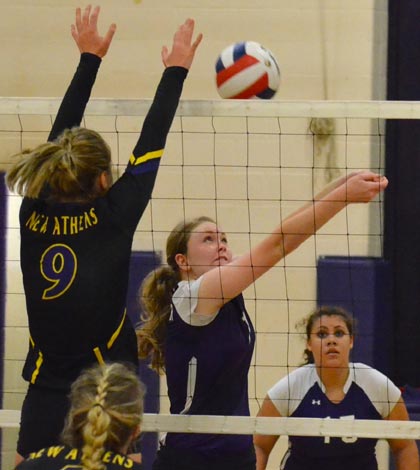 The postseason run for Valmeyer volleyball came to an end with a loss last Wednesday in the championship game of the Class 1A Christ Our Rock Lutheran Sectional at Centralia.
The Pirates dropped a three-set match to Steeleville, 25-18, 16-25, 17-25.
Valmeyer came out on fire to start the match, making precise passes and executing solid kills en route to a first set victory.
Steeleville started to get going in the second set, however.
"Steeleville couldn't get a block on us, but about halfway through the second game, they were reading my hitters," Valmeyer head coach Jenny Kohnz said. "We were having a hard time getting balls through."
The second set was tied 16-16 when Steeleville went on a 9-0 service run to even the match and swing momentum to its side.
"Steeleville stole the momentum in the second game and we just could not get it back," Kohnz said.
Steeleville was victorious in the deciding third set, taking the sectional title and ending Valmeyer's season.
"We did some roll shots to the middle and got some kills, but then Steeleville was diving and getting those, too," Kohnz said.
Senior outside hitter Sam Seidel led the Pirates with 11 kills in her final match. She signed with Southwestern Illinois College on Tuesday.
Sara Andres added 10 kills and  Guin Kohnz finished with 26 assists.
Valmeyer ended its season with a record of 27-11 and loses only Sam Seidel to graduation.
"The season exceeded my expectations. With only 10 girls on the entire team, I was a little worried," Coach Kohnz assessed. "But my girls worked hard.  They went out and played JV and varsity every night and never complained. I believe it made them better playing JV."
The coach said she was able to have her players play different positions in junior varsity, making the entire team more versatile.
"My varsity left-handed setter played outside hitter and played defense," she explained. "My middle hitters played the back row, and my varsity libero played front row. I think we only lost one or two JV games all season. 
"Playing different positions made them all-around better volleyball players and was key to our success this year."
Sam Seidel led the team in digs with 347 and was second to her sister, sophomore Jessie Seidel, in kills with 277. 
Jessie Seidel led the team with 316 kills and was second in service points with 182.
Guin Kohnz led the team with 219 points and 769 assists.
Andres led the team in blocks with 75.