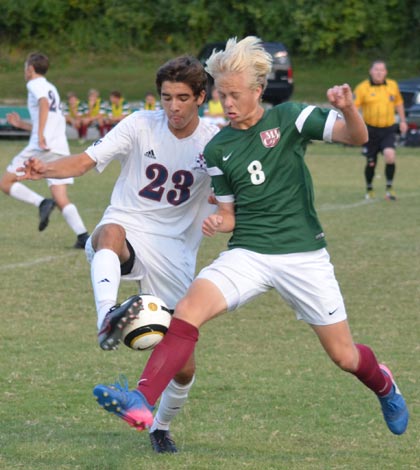 The Columbia, Gibault and Waterloo soccer teams all posted key victories in recent action as the regular season reaches its midway point.
The Eagles have stormed to an 11-0-1 record out of the gates, posting five more recent wins.
Last Tuesday, Columbia won 7-0 over Breese Central, with Sam Spivey and Alex Barton scoring two goals each.
Riley Hubler recorded another hat trick on the season in last Wednesday's 5-1 win over Granite City. He now has 13 goals and two assists on the season.
David Olsson netted the hat trick for the Eagles in Thursday's 10-0 blowout of Lebanon. Bryce Pautler added two assists and Hubler, Barton and Jake Bridges contributed a goal and assist each. 
On Friday, Columbia had little trouble over Wesclin, winning 6-1. Tony Ribolzi scored two goals and Barton added a goal and an assist.
The Eagles continued their early season dominance on Monday with a 6-1 win over Highland. Cameron Eden scored two goals with Barton again adding a goal and an assist.
Barton has seven goals and 10 assists this season. Spivey has seven goals and an assist.
The Eagles hosted rival Gibault on Tuesday night, marking the second such meeting this season. The result was not available at press time.
Gibault (6-3-2) won two of three recent home matches, with the loss coming at the hands of highly ranked large school Edwardsville last Wednesday, 1-0, in a very physical contest.
The Hawks took down Mater Dei last Tuesday at Oerter Park, 2-0, on goals from Karson Huels and Logan Doerr. 
On Friday, a second half goal by Huels led to a 1-0 victory at home over MICDS.
Following Tuesday's match with Columbia, Gibault hosts Freeburg on Thursday night.
Waterloo improved to 6-5 on the season with three recent wins. 
Justin Kohler scored three goals and Jake Elsing and Caden Gordon netted two goals each in last Wednesday's 8-0 blasting of Civic Memorial. 
Hayden Reese scored two goals with an assist and Kohler added a goal and two assists in Thursday's 5-3 victory at Mascoutah.
On Monday, the Bulldogs moved to 4-0 in Mississippi Valley Conference play with a 4-3 win over Jerseyville. 
Kohler continued his successful fall with two goals and an assist. Gordon and Tate Schilling added a goal and assist each.
Waterloo hosted Highland on Tuesday (result not known at press time) and will host MVC nemesis Triad on Thursday.
Kohler leads the team with 11 goals and nine assists on the season; Gordon has eight goals and six assists.
Valmeyer (3-5) topped Salem last Tuesday, 3-1, with goals from Drew Maus, Tyler Kempfer and Ryan Brinkman. 
On Thursday, the Pirates dropped a 5-1 game at Valley Park. Andrew Whipple scored the lone goal for Valmeyer.
Brinkman and Whipple are tied for the team lead in goals for the Pirates with four each.