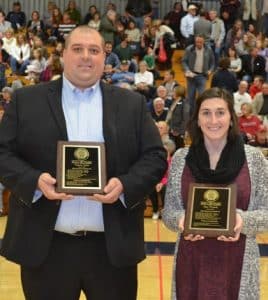 Gibault Catholic High School continued its 50th anniversary celebration with the induction of two former standout student-athletes into the Hawks Sports Hall of Fame.
Dakota Schutt (Class of 2007) and Tara Kennedy (Class of 2010) were presented with their Hall of Fame plaques during a ceremony held at halftime of the boys basketball game against Red Bud.
Schutt was a baseball and basketball standout for the Hawks. He hit .448 with seven home runs and posted a 6-1 record on the mound with a 1.75 ERA during his senior season.
On the court, he led the team in scoring at 13.8 points and 10.6 rebounds per game as a senior.
He was MVP of the baseball team in 2006 and 2007, and MVP of the basketball team in 2007.
His career baseball average was .409.
In basketball, Schutt was MVP of the Nashville Shootout in 2007. He was named to the all-tournament team of the Columbia-Freeburg Holiday Tournament in 2006 and 2007.
Schutt took his baseball talents to McKendree University, where he was a four-year letter winner. Schutt posted a 15-10 career pitching mark at McKendree, and was named an AMC All-Conference Honorable Mention in 2009.
Schutt was named academic all-conference all four years while at McKendree.
"I'm very proud to be joining all the other athletes in the Hall of Fame," Schutt said.
Schutt praised Gibault basketball coach Dennis Rueter and baseball coach Andy Skaer for their leadership.
Schutt told a story about Rueter, recounting a time the legendary coach told him that when he came in as a freshman, he didn't think he would be that good of a basketball player.
"But by the end of my senior year, he said I was good enough to play on some of the best basketball teams that Gibault's ever had," Schutt said. "So, that stuck with me. I was very proud of that."
Schutt also had high praise for Skaer.
"You put me in those spots to win and be a great baseball player," Schutt said to Skaer. "Your knowledge of the game rubbed off on me. I appreciate that."
Schutt also took time out to thank his family, friends and all the Gibault fans.
"I'm very honored," he said. "Thank you."
Kennedy was a soccer standout for the Hawks. She was the leading scorer on the team as both a junior and senior.
She was MVP of the 2009 and 2010 girls soccer teams and MVP of the 2010 girls basketball team.
Kennedy won the Vernie Moffitt Award in 2010 and the Wendy's High School Heisman Trophy Award in 2010.
She earned four all-area mentions in soccer and basketball while at Gibault.
At McKendree, Kennedy was a four-year letter winner in  soccer and led the soccer team in assists her junior year.
Kennedy received the GLVC Council of Presidents Award in 2013 and 2014, and was on the dean's list at McKendree all four years.
"I want to thank all of my coaches for all their help throughout all these years I had at Gibault, my parents for their support and encouragement, and my teammates, who have become my closest friends," Kennedy said. "Thank you."