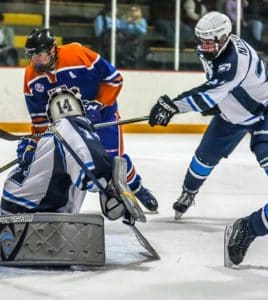 Sports teams from Columbia and Waterloo are natural rivals due to their proximity and a mutual quest for Monroe County supremacy.
Although they play their games on rinks up north in East Alton and Granite City, ice hockey is no different.
The Columbia Ice Eagles and Freeburg-Waterloo Raging Bulldogs are fierce rivals in the Mississippi Valley Club Hockey Association, and always seem to meet in the postseason. The two teams finished the regular season portion of the MVHCA schedule with identical 11-4-1 records, including a split in two earlier contests.
Entering the Class 2A round robin portion of the schedule on Monday night, the rivals met again in East Alton.
The Raging Bulldogs emerged victorious this time, but there is still plenty of hockey yet to play.
Freeburg-Waterloo jumped out to a 2-0 lead on goals from Adam Phelps and captain Scott Nanney before Columbia answered with a power play goal and two other scores to go up 3-2.
The Raging Bulldogs netted four unanswered goals to win this latest rivalry showdown, 6-3. Austin Patton tied it at 3-3, and then Jacob Pitt scored two straight to send the Freeburg-Waterloo crowd into a frenzy. Phelps put the final nail in Columbia's coffin with a late goal.
For the game, Freeburg-Waterloo outshot Columbia 37-16.
Sean Hofstetter scored his league-leading 35th goal of the season for the Ice Eagles. Garrett Poole and Cam Nowak netted the other goals.
"We know these final five games to determine the playoff seeding are very important," Raging Bulldogs head coach Scotty Roberts said. "We wanted our boys to come out flying. We did just that, jumping out to a quick 2-0 lead."
After the Ice Eagles stormed ahead 3-2, Roberts said the coaching staff calmed the players down.
"We calmed the boys down and got ready for a very important second half of the game,  and then just took over the game," he said.
Roberts praised his defense for limiting Columbia's "big three" of Hofstetter, Poole and Jacob Matthews.
"Every time we play Columbia, we know it's going to be a battle," Roberts said. "As long as we shut down their big three, we know we have way more depth than they do and we can come out with a big win. We did just that."
The win moved Freeburg-Waterloo (12-4-1) into second place in the MVCHA Class 2A standings by virtue of O'Fallon's loss to Edwardsville.
Columbia head coach Kevin Feager said his team committed too many penalties and made other mistakes that proved costly.
"We let them get the early lead, which is always dangerous, but we were able to fight our way back," Feager said. "We got into penalty trouble in the third period, and we were not able to keep up with them offensively.
"We know when we play the other 2A teams, there is not a lot of room for mistakes. Freeburg-Waterloo made us pay for ours."
Columbia was back on the ice against O'Fallon on Tuesday. The result was not known at press time.
Freeburg-Waterloo will play Bethalto this coming Monday night and Collinsville on Tuesday night.
Columbia takes on Edwardsville Monday night and will battle Bethalto next Thursday.
The six teams in the Class 2A portion of the MVCHA standings will be seeded following the round robin schedule, after which the best-of-three-game series begin.
Columbia has eliminated Freeburg-Waterloo from the MVCHA playoffs each of the past two seasons.