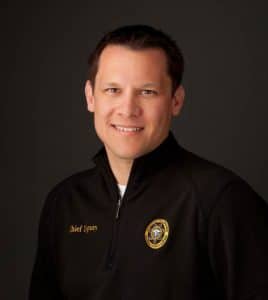 Monroe County Coroner Bob Hill may have been on the job for just a month, but he's been preparing for his new role for years.
After serving as the county's chief deputy coroner for six years and deputy coroner for two years, Hill was elected coroner in November, succeeding former coroner Vicki Koerber, who was elected to the Monroe County Board of Commissioners.
"The opportunity came with Vicki's vacancy, and something I always wanted to do, going back to being a funeral director, is help people in their time of need," Hill said.
In addition to his duties as coroner, Hill also serves on the Monroe County Coalition for Drug-Free Communities, a role he plans to continue and expand upon as coroner.
Community outreach is central to Hill's goals. He plans to implement a coroner's office Facebook page that can be used to disseminate safety information. He also wants to start releasing quarterly reports on coroner's office calls.
The 40-year-old graduate of Columbia High School also wants to continue to cultivate a positive relationship with local law enforcement.
"I want to improve, expand, I should say, the education of suicide," Hill said. "I want to continue to bring that education to the forefront by offering additional resources about suicide."
His first month in office has been a busy one − the office handled a record 20 calls in December. But Hill said that being under Koerber's mentorship helped him become acclimated to the administrative aspects of the job — scheduling, billing, budgets and meetings.
"It helped quite a bit. Vicki, the last year or so, has helped get me ready for the position," he said. "It was a pretty smooth transition, I would say.
"It's been a lot of work in the first month, but I enjoy it," he said. "This is why I ran — to help the community in any way I can."
Hill is the first certified medicolegal death investigator in Monroe County Coroner's Office history, and is a member of the Southern Illinois Child Death Task Force.
He has 20 years of experience in funeral service, including 12 years as a licensed funeral director and embalmer.