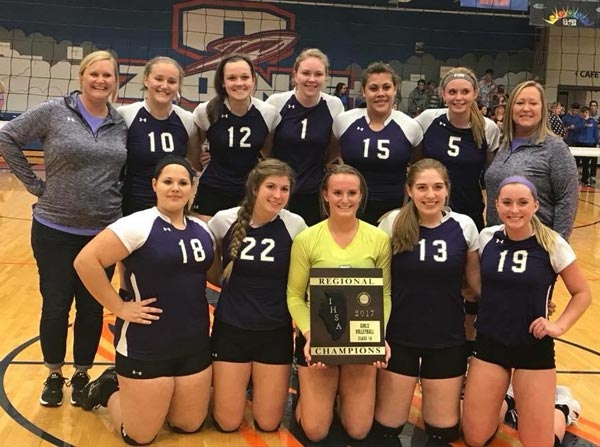 ---
Valmeyer is the last local high school volleyball team standing after winning a third straight regional title last week.
The Pirates hope to add even more shiny hardware to their treasure chest this week.
Valmeyer (27-10) defeated Patoka in the Class 1A Okawville Regional last Tuesday, 25-19, 25-15. 
Kendra Goldschmidt finished with 13 service points and Jessie Seidel led the way with seven kills.
Valmeyer outlasted Okawville in three sets Thursday night to win the regional crown, 25-20, 23-25, 25-15. 
Sisters Sam and Jessie Seidel recorded 17 kills each to lead the Pirates. Sara Andres added 10 kills. 
Guin Kohnz, the daughter of head coach Jenny Kohnz, recorded a season-high 41 assists in the regional title win.
"She is our playmaker, our quarterback," the coach said of her daughter. "She doesn't get the big kill, but she is the one that touches the ball every play of the game and runs our offense. She does a great job of spreading the offense and using her jump set to throw off the other team's defense."
After dropping the second set, the Pirates received a boost via freshman Brooke Maus, who provided a great service run in the deciding third set,
"Brooke is our go-to server," Jenny Kohnz said. "She is consistent and doesn't let nerves get the best of her. She has continued to come in at crucial times this year and get the serve over for us."
At the Christ Our Rock Lutheran Sectional in Centralia on Monday night, Valmeyer showed its toughness once again in a 25-23, 25-23 victory over Hardin Calhoun.
"We had beaten Calhoun earlier in the season, but we knew they would be a different and improved team," Jenny Kohnz told the Republic-Times.  "We trailed both games and always had to fight our way back.  We would get a lead, and lose it again… we couldn't seem to put the ball away or the game away.  But my girls always play to win, and they attack hard to the last point."  
Jessie Seidel recorded 12 kills and Sam Seidel added nine kills. Kohnz had 22 assists. 
Gwen Panzau and Kenzi Rowe-Brown came through with big blocks up front for the Pirates in this win.
"These were crucial points and increased the intensity of  our team," the coach stressed.
Jenny Kohnz said the Seidel sisters and Guin Kohnz played club volleyball together this past year and it shows on the court this season for the Pirates. 
"They know what the other is thinking," Jenny Kohnz said. "These three have been solid throughout our season, and they will lead us on Wednesday when we face Steeleville."
Guin Kohnz leads the team in points (216) and assists (743) this season. Jessie Seidel leads in kills with 309, while her sister Sam is next with 266 kills to go along with a team-leading 335 digs. Andres leads Valmeyer with 75 blocks.
The Pirates will battle Steeleville for the sectional crown, having lost the two prior matches this season. On Sept. 18, Valmeyer dropped a three-set match at Steeleville. On Oct. 17, the Pirates played Steeleville tough but lost 28-26, 29-27 at home.
The winner of tonight's match advances to the Raymond Supersectional this Friday night.
In other volleyball action, Waterloo lost to Mascoutah last Monday and Columbia lost to Freeburg last Tuesday in the Class 3A Mascoutah Regional, ending their seasons.
Waterloo (13-18) was led this season by Hannah Cope (153 points, 227 kills), McKenna Krebel (306 assists), Ana Jany (39 blocks) and Skylar Geske (622 digs).
Columbia (22-11) was led this season under first-year head coach Dustin Cutts by Mia Valleroy (114 kills, 47 blocks), Molly Mistler (93 points), Ellie Stone (228 digs) and Paige Becker (239 assists).
In Class 2A, Dupo lost to Marquette in the Dupo Regional last Monday. The Tigers ended their season with a record of 4-21.
In Class 1A, Gibault lost to Steeleville in the New Athens Regional last Tuesday.
The Hawks (7-28) were led this season by Sidney Wightman (139 points), Lexi Chambers (160 kills), Ashlyn Wightman (40 blocks), Haley Davitz (316 digs) and Kayla Huels (496 assists).