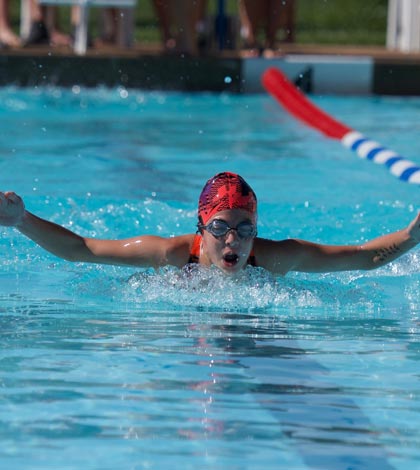 The youth swimming season is splashing away this summer with the Columbia Hurricanes and Waterloo Piranhas both making waves.
The Columbia Hurricanes have 108 swimmers this summer under head coach Bart Jones. The team is currently 5-0, including a win over the Piranhas.
"We are learning a lot and kids are picking up a lot of confidence," Jones said. "This many swimmers makes things competitive in practice and at meets and that really adds to what kids learn. When you have a same age peer that swims a little faster than you or can do things that you can't do, it really provides a certain degree of motivation to try to catch up. It's a great thing to have this now on the team."
Jones pointed to some strong performances from a number of swimmers: Connor Flack in ages 15-18 boys, Jaycee Cotton in ages 13-14 girls, Grace Galeski in ages 11-12 girls, and Cole Galeski and Grant Reuss in ages 9-10 boys.
"And we have so many in (ages) 8 and under and (ages) 6 and under it would be hard to single any one or two out," he said.
He said the veteran swimmers have stepped up to help out the younger team members, as well.
"We have swimmers from our upper age groups helping with the young ones and I am thankful to have an assistant this year in Cheyanne Newland. She was a longtime swimmer for the Hurricanes," he said.
The Piranhas are 0-4 so far this season, but the positive to take away for now is that the program has nearly doubled in size from last year.
"The majority of our swimmers are under (age) 10. Regardless, the kids are getting stronger every week and we hope to get a few wins in before the season ends," Piranhas parent board president Chuck Breitwiser said.
Some of the stronger swimmers this season under head coach Vickie Kehrer include veterans Jake and Nick Reeve, Janie Kehrer and Hailey Runyon in the ages 15-18 group; Kayla and Ellie Ahne, Olivia Most, Carrie Wagenknecht, Jordyn Brewer and newcomer Devon Walter in the ages 11-14 group.
In ages 10 and under girls, Sophie Breitwiser, Sydney Kuergeleis and Reese Davis-Grandcolas have raised expectations, the coach said. In ages 10 and under boys, Sam Breitwiser, Wyatt Nolte, Kadyn Brewer and Ryker Swope are winning individual heats and some relays.
"We're extremely excited that our team has nearly doubled in size since last year," Kehrer said. "Everyone has been putting in a lot of hard work at practice. I've seen much improvement overall."
The team competed hard on Saturday, but dropped a meet to the Kingsbury Clippers from Greenville, 272-214.
"We hope to continue swimming well when we swim outside our league Thursday against Red Bud," Kehrer said.