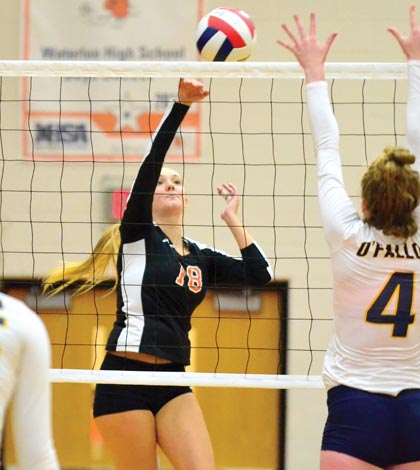 The local high school volleyball scene is chock full with talent, as evidenced by this year's Republic-Times All-Local Volleyball Team. Many of the young women on this year's team are underclassmen, meaning there's even more success in store for 2018.
FIRST TEAM
Hannah Cope, Waterloo. This junior hitter earned all-conference honors after leading the Bulldogs in many categories this past fall. Cope finished with 153 points, 227 kills and 296 digs.
Guin Kohnz, Valmeyer. Another junior heads the list, as Kohnz ran the Pirates offense this season. The setter finished with 219 points, including 65 aces, and an eye-popping 769 assists.
Sam Seidel, Valmeyer. A senior outside hitter, Seidel teamed with her younger sister, Jessie, to form a dynamic duo for the Pirates. She finished with 159 points, 277 kills and 347 digs.
Jessie Seidel, Valmeyer. This super sophomore led the Pirates with 316 kills while also contributing 182 points. She'll be back for even more success next season.
Mia Valleroy, Columbia. The junior class has another volleyball star in this strong hitter for the Eagles. She ranked among the team leaders in kills and blocks in 2017 and earned all-conference honors.
Skylar Geske, Waterloo. Yet another junior, this libero finished with 622 digs and 141 points for the Bulldogs.
SECOND TEAM
Paige Becker, Columbia. This sophomore setter racked up plenty of points and assists this season for the Eagles.
Lexi Chambers, Gibault.  A junior, Chambers led the Hawks in kills with 160 while also contributing 26 blocks.
Sara Andres, Valmeyer. At 5-foot-11, this junior middle hitter was a force at the net for the Pirates this season. She led the team in blocks with 75.
Ellie Stone, Columbia. The youth movement continues with this junior for the Eagles, who led the team in digs from the libero position. 
McKenna Krebel, Waterloo.  This junior recorded 132 points and 306 assists for the Bulldogs.
Haley Mathews, Columbia. A junior outside hitter, Mathews ranked among the team leaders in kills and points this past season.
HONORABLE MENTION
Molly Mistler (Columbia), Kayla Huels (Gibault), Ashlyn Wightman (Gibault), Sidney Wightman (Gibault),  Kassidee Keys (Dupo), Courtney Stanek (Dupo)