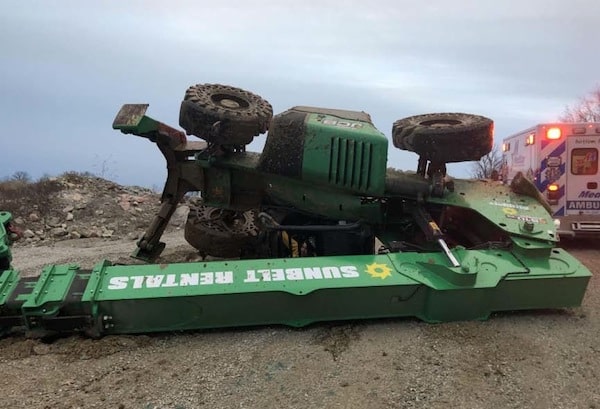 ---
Emergency personnel responded shortly after 6:30 p.m. Sunday to a forklift accident involving two young males at the Falling Springs Quarry at 2905 Stolle Road between Cahokia and Dupo.
A 12-year-old boy called from inside the property, telling emergency dispatchers that his 14-year-old friend was trapped by an overturned forklift.
St. Clair County Sheriff's Department deputies arrived and found the gate locked to the quarry, but were able to make contact with security to let EMS and fire rescue units in. Responding units assisting the sheriff's department included the Dupo Police Department, Prairie du Pont, Dupo and Cahokia fire departments, and Medstar EMS and ARCH helicopter medics.
"Apparently the boys entered the fenced and gated property unnoticed and somehow were able to start the forklift machine," St. Clair County Sheriff's Department Capt. Bruce Fleshren said. "They began operating it, and it rolled over after being driven on the side of a hill, pinning the 14-year-old's hand under it. The 12-year-old was able to jump and clear the machine, injuring his ankle."
Responding units found an overturned Telescopic Handler on its side and the 14-year-old on the ground with his left hand pinned underneath the machine.
At 7:45 p.m., the boy was freed and ARCH Air Medical Services airlifted him to Children's Hospital in St. Louis. A family member told FOX2 that the 14-year-old's hand was severed and surgeons were evaluating if it can be reattached.
The 12-year-old complained of pain in his right ankle and was transported to Cardinal Glennon Hospital in St. Louis by Medstar.
Police said that according to security, the keys to machines at the quarry are usually locked away and the area is fenced off.
"While extremely lucky they were not killed in this incident, the boys do face the possibility of trespassing and criminal damage charges at the completion of the investigation," Fleshren said.