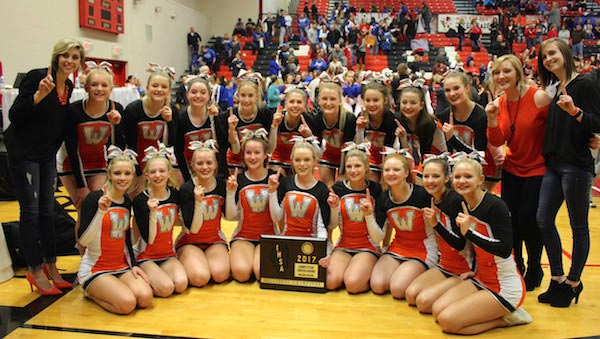 The Waterloo High School cheerleading squad advanced to next weekend's IHSA state meet with an impressive performance Saturday in the Triad Sectional, taking first place over such cheerleading powerhouses as Highland and Columbia.
The Bulldogs posted a score of 87.11 to win the medium division. Highland placed second at 83.27, followed by Columbia at 82.89. All three teams advanced to the IHSA state meet to take place next weekend in Bloomington. Mt. Vernon and Mascoutah also advanced to state.
Columbia placed first at the Illinois Cheerleading Coaches Association Championships held earlier this month, with Waterloo placing fifth. Both squads advanced to the IHSA state meet last year, with Columbia placing fifth and Waterloo failing to advance past the preliminary round.