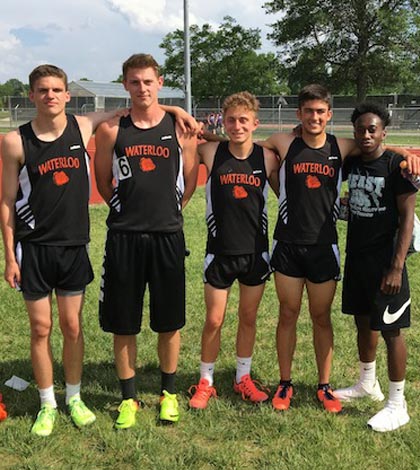 The Waterloo High School boys track team qualified seven athletes for next weekend's state meet by virtue of impressive performances in the Class 2A Mascoutah Sectional on Thursday.
The 4×400 meter relay team of Jackson McAlister, Noah Hays, Dawson Holden and Samuel Rick set a new school record with a time of 3:22.60, which was good for second place at Thursday's sectional behind perennial state champion Cahokia.
Travis Thier qualified for state in the triple jump, placing fourth at the sectional at 43 feet, 8.75 inches.
Jackson Ivers qualified in the discus, placing fourth at the sectional with a throw of 144 feet, six inches.
Also qualifying for state for a second straight year was sophomore wheelchair racer Donovan McBride, who will compete in the 100, 200, 400 and 800 meter wheelchair events at state. Last year, McBride set a state record at 800 meters.
The IHSA state track meet takes place May 25-27 at Eastern Illinois University in Charleston.
There could be more local athletes joining the seven WHS tracksters at state. The Class 1A Sparta Sectional takes place Friday with athletes from Gibault, Dupo and Valmeyer among those competing.