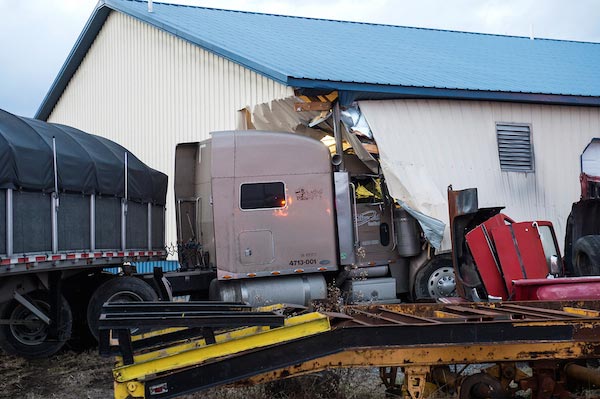 It was a busy and treacherous Wednesday afternoon on Monroe County roadways, as emergency personnel responded to three separate crashes — all of them involving semi tractor-trailers.
At about 4:20 p.m., a three-vehicle crash involving a semi truck took place in the area of 5600 State Route 3 at T Road south of Waterloo.
The semi-truck hit a building, forcing the closure of Route 3. The other vehicles involved were a late model red Chevrolet Silverado and a Chevrolet work van operated by Wiese of St. Louis. 
Illinois State Police said the Chevrolet work van, driven by Todd Koester of Ruma, was traveling south on Route 3 just north of T Road and crashed into the rear of the Chevy Silverado, which was driven by a juvenile male from Waterloo and had slowed to turn left onto T Road. The impact of the crash pushed the Silverado into the northbound lane of Route 3, resulting in a collision with a northbound semi driven by Joseph Hardesty of Brandenburg, Ky. The semi driver swerved in an attempt to avoid the crash and drove off the roadway to the right. The semi traveled approximately 45 yards before crashing into a large pole shed at 5726 State Route 3.
The semi became lodged in the large shed, where a family has restored vehicles for years. Mike Pegg was in the building working on a car at the time of the accident, and was in the room the truck tore into. Pegg told the Republic-Times he thought a car had fallen off its jacks, but then realized that car parts and other items were flying through the air. He was uninjured.
Southbound traffic was diverted onto Sportsman Road and northbound traffic was diverted onto KK Road. The driver of the Silverado was transported to an area hospital for treatment of minor injuries.
Shortly before 3 p.m., a three-vehicle crash occurred at Route 3 and Veterans Parkway near the McDonald's in Columbia. Police said a 2006 Volkswagen Jetta driven by Donald Nitzsche, 74, of Evansville, was traveling north on Route 3 and attempted to turn left onto Veterans Parkway when it struck a southbound 2009 Freightliner driven by Kenneth Hall, 66, of Wayne City. Hall's semi skidded sideways upon impact and struck a southbound 2017 International semi driven by Joshua Niepman, 25, of Eldon, Mo.
Nitzsche was transported to St. Anthony's Medical Center for treatment of an unspecified injury. He was cited for failure to yield in the crash.
At about 1:45 p.m. Wednesday, a tanker truck carrying lime slurry overturned on Route 3 at South Library Street in Waterloo, resulting in a minor injury and another road closure. For more information on that crash, click here.