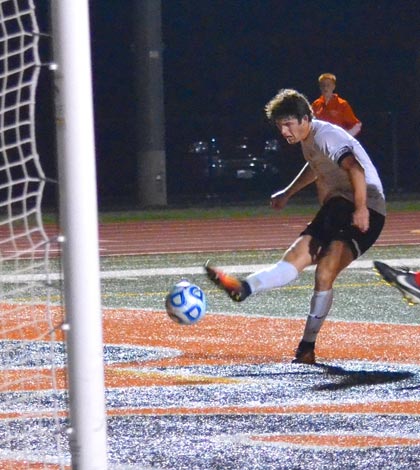 It wasn't supposed to end this way.
The defending state champion Waterloo High School soccer team saw its season come to an end in a thrilling Class 2A sectional final Friday night at WHS.
The Bulldogs outshot Jacksonville 21-3 in the contest, which came down to penalty kicks.
Jacksonville's Steven Albers knocked in his own rebound to score in the game's opening minutes.
Waterloo answered with about 16 minutes remaining in the first half, as Ryan Stites found Cole Kolmer with a pass in stride. Kolmer buried his shot to tie the game at 1-1.
Despite several strong scoring chances in the second half, Waterloo just couldn't find the net in regulation and the game went into overtime.
During the first overtime, senior Waterloo goalkeeper Trevor Coplin was ejected for what the officials said was a punch thrown at an opposing player. Freshman Sam Ward replaced Coplin and held strong through the remainder of the overtime periods, stopping multiple shots.
"We were told that he threw a punch," Waterloo head coach Chad Holden said. "We actually played just as well being a man down for 16 minutes as we did having 11 players."
The game went into penalty kicks, and Waterloo opted to have Stites in net and also serve as one of the team's five shooters.
"Ryan is a great overall soccer player and he has given us minutes in the past in the goalie position," Holden explained. "We put him in goal because we are strong believers in letting your seniors carry the team. Of course, Trevor Coplin would have been our goalie had he still been in the game, but that was not the case."
Jacksonville connected on all of its five attempts, but Stites missed on his own PK attempt and Jacksonville emerged victorious.
"I feel bad for our players because we did play very well but just could not score," Holden said. "We outshot them 21-3 with a lot of shots on target or hitting the post. It was just one of those nights where the ball would not go into the net.  Their keeper came up with some huge saves."
Waterloo ends its season at 18-4-3.
"Overall, I am very proud of the boys," Holden said. "We knew we would have a big target on our backs with winning the championship the year before, but I thought the team was up to the challenge and had a great season.
"The bottom line is that we should have put the game away during regulation or overtime.  We had our chances, but didn't convert."
The Bulldogs advanced to the sectional final by blasting Carbondale last Tuesday, 7-0.
Ben Huels scored two goals and added two assists. Philip Most added two goals. Kolmer scored a goal and had an assist.
Huels finished the season with 30 goals and 12 assists, ranking eighth in scoring for the entire St. Louis area. Most finished with 22 goals and 15 assists.