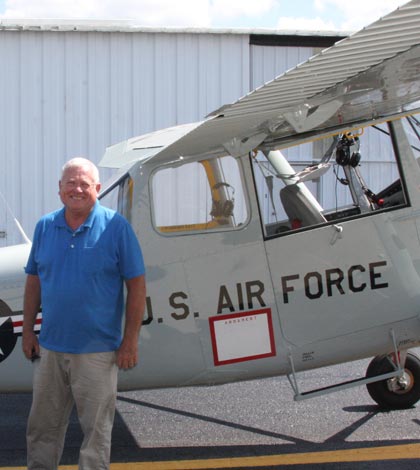 John Schaefer of Waterloo isn't new to flying, having become a pilot in college. 
Indeed, Schaefer has owned as many as six or seven private planes over the years, and continues to seek the thrill that comes from being 1,000 feet above ground.
"It just makes me feel good. You're under your own control. No one can tell you what to do or where to go," he told the Republic-Times during an interview Friday.
I was invited to Schaefer's hangar at the Sparta Community Airport to interview him and take a ride in his plane. 
Just last year, Schaefer added a new dynamic to his hobby when he purchased a 1951 Cessna O-1A Bird Dog. Schaefer estimates only about 300 to 400 of this exact model plane are still being flown.
"My wife (Liz) and I decided we wanted a Cessna Bird Dog," he said. "So we went all over the country looking for one. We went to Kansas, Texas, Florida, northern Illinois. 
"And we looked at a lot of different planes but they were mostly old and ruddy. Then we came across this one in Cleveland, Miss.," he added, pointing to his plane that he keeps in a hangar at the Sparta Community Airport.
Schaefer's plane was flown by the U.S. Army in 1962 and was then given to the Thailand Army on a lending program. He said he doesn't have any records detailing for what mission the plane was used, but some clues do exist.
"This kind of plane was generally used for observation to spot targets for the Army by laying down smoke," Schaefer said.
The plane eventually returned to the United States and received new wing ribs from spare parts, brand new skins (the outside aluminum), and an old but never-before-used engine.
"It's restored to what it would've been when the Army had it," Schaefer said.
Coincidentally, Schaefer served 25 years in the U.S. Navy, including a tour where he was stationed in Kuwait during Desert Storm, though not as a pilot. He also commanded the USS Samuel B. Roberts, a John C. Butler-class destroyer escort, and was on nine other ships. And his service took him to many different countries.
"I had the honor of being able to serve almost everywhere in the world," he said.
The flight
After running through the details of the plane and his military career, Schaefer gave me a walkthrough of his pre-flight checks before taking off.
First on the list was to check the plane's safety lights, which Schaefer said is important to do even during the day. Next, to avoid condensation buildup that could stall the engine, Schaefer drained a little bit of fuel from the tank.
That was followed up by making sure everything in the engine compartment was connected, and that there were no fluid leaks. He then made sure every part of the outside of the plane was well-connected, removed the chocks from under the wheels and checked the bolts and rivets along the outside of the plane.
After successfully navigating the plane out of the hangar, we both hopped in and were ready for takeoff. We taxied down the runway and a tingling sensation rushed through my body.
"You ever get anyone with pre-flight jitters?" I asked, not sure of what this two-person airplane would do for my fear of heights.
"Yeah, I just tell them to relax. It's going to be fine," he replied.
To my surprise, the takeoff was smoother than any commercial flight I had ever experienced, and before I knew it, we were high up over the streets. Schaefer communicated with the airport to alert the ground of his flight while I averted my eyes from the ground below.
Once he had reached the desired altitude, Schaefer began pointing out things on the ground, such as the Army National Guard recruiting office in Sparta, as well as the airport from which we had departed.
The duration of the flight was quite short, and though I was mostly relieved to feel the tires touch down on a grass runway in the confines of the airport, a part of me also wished we could keep going to allow me to build up a kind of immunity to non-commercial flying.
Flight Fest
Schaefer also told me about the Sparta Aero's Flight Fest event Sept. 16 at the airport that included complimentary flights for kids, vendors, paid flying lessons for all ages, a car show and more.
A big part of the event was to help kids develop an interest in flying, as Schaefer said the number of people becoming pilots has significantly decreased through the years. 
One of the ways Schaefer helped achieve this was by including a free ride in his plane for whichever kid won the raffle to benefit the Randolph County Humane Society. 
Schaefer said he has taken many kids on the different planes he has owned over the years and enjoys their various reactions to the ride.
"It's neat because some of them are really interested and ask thousands of questions. And some just sit there and don't say a word, and when they get to the ground, they want to go again," he said.
Hopefully, whoever won the raffle is less apprehensive than I.