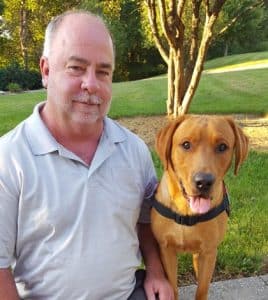 Nearly 20 years ago, Dave Eustis found himself helplessly pinned under the weight of his tractor at his home in Waterloo.
The story begins in 1998, a year after he and his wife moved to Waterloo. Eustis was outside on his tractor when he got off on a steep incline in the middle of his property.
"I noticed the tractor starting to tip over, and I thought it was headed toward the truck," he said. "Now, I wish it had."
Instead the tractor toppled Eustis over, and he wound up with his leg caught in a Bush Hog — rotary cutter.
The former Heartlands Conservancy president was rushed to Saint Louis University Hospital where he spent weeks recovering — one of Eustis' legs would eventually be amputated, causing a permanent handicap. A long period of recovery followed, including through in-home care.
At a time when in-home care businesses weren't as abundant, Eustis required the services of his friends and family.
He was fortunate to receive their help, though he wished an alternative existed at the time.
"It wasn't a good situation because these people taking care of me had full-time jobs too," he said.
About two years ago, Eustis would search for an investment opportunity, finding the health care industry had changed significantly. He mined through different investment options without finding the right fit.
"It was hard to find something that interested me," he said.
That is, until an in-home care company known as Right at Home caught his attention. Eustis immediately saw the benefits of the company, which, as fate would have it, provides in-home care for those wanting to live out their days at home but can't care for themselves.
He began his debut with Right at Home meeting Eric Martin, Right at Home's senior franchise development director. Martin, who enjoyed getting to know Eustis, is responsible for recruiting and bringing forward prospective Right at Home franchise owners.
"I fell in love with (Dave and his wife)," Martin said. "I thought they were fabulous people.
The feeling was mutual for Eustis as far as Right at Home is concerned, and he began going through the process of becoming a franchise owner. What roped Eustis in was seeing Right at Home's reputation for exceptional service.
"As an investor, yeah, I made a good investment," Eustis said. "But to be one of the best franchises out there, they also have to provide good care."
More information on Right at Home, owning a franchise, or receiving in-home care can be found at rightathome.net. According to Eustis, his Right at Home franchise will include an office out of Collinsville at 1 Regency Plaza Drive Suite 140, which he plans to open in September.
Eustis said his franchise has not yet received its license. In addition, the franchise is still working on getting a website and phone number.
"I think (Eustis) brings a lot of passion to the table because of his experience," Martin said, elaborating that Eustis is experienced in networking and has working relationships in the community.
Channeling his passion, he researched how to become a successful franchise, through such means as reaching out to the community about the importance of in-home care. The Collinsville office will function as a liaison between families and caregivers.
Specifically, someone in need of care will call in and explain what is needed. Then someone on Eustis' staff would come to the person's home for a site visit to see safety issues and clarify needs.
"We could have a caregiver ready the same day as the call," Eustis said. "We have got to have a solution quickly because these people are in need."
However, Eustis said that on top of meeting needs quickly, a robust training program for caretakers is essential to the franchise's success, as an in-home care business is "only as good as the caregivers."
"They are a huge aspect of the business," he said. "Having caregivers that are good at what they do is paramount."
When Eustis finally gets to see his vision come to life, he will find joy in the fact that the services provided will make a difference in the community.
"My favorite part will be going home knowing how many people's lives have been made better," he said.