Valmeyer treasure retires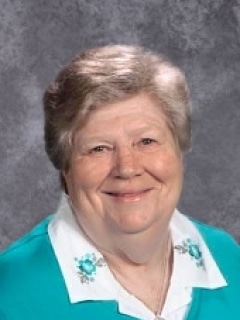 After 40 years with the school district, a familiar and beloved face at the Valmeyer school is finally saying goodbye.
With four decades spent working in the grade school office, Charlotte Gartzke has had the opportunity to see multiple generations of students pass through Valmeyer schools – including members of her family.
"I have been fortunate enough to see my children go through school here, and six of my seven grandchildren," Gartzke said.
Of course, Gartzke has been a part of the school district since she herself passed through it years ago.
After her graduation, she attended Southern Illinois University Carbondale for a year, though soon found herself drawn to the civil service amid the Vietnam War.
She began working as a secretary for the Navy and Marines, largely dealing with paperwork that came with the enlistment process.
It was in the civil service where she met her husband. The two were able to keep in touch through letters while he was on duty, and they eventually got married in 1967.
A year later, they had their first baby. Gartzke retired from the civil service to take care of the child, and the couple ended up having two more over the years.
It was sometime later when Gartzke was contacted by former Valmeyer Superintendent of Schools Harold Baum, who reached out to ask if she'd be interested in a position at the office.
With her youngest child in kindergarten, Gartzke thought it was a good time to accept.
Her experience in the civil service also helped with this decision. Secretarial work seemed to be a good fit for her, and she felt a particular draw toward the human element of the job.
"You're always working with the public, and when you work with the public, I always felt you need to listen to them," Gartzke said. "Everybody has their own problems, and you need to set yours aside and when somebody calls, you need to listen to them. The big thing is to listen to them, not to judge them. You just need to listen and then go from there."
Baum played a big role in Gartzke's decision.
Gartzke recalled something he said when she first started which really drove home the importance of doing her job for the students.
"When I started my job he said, 'You know Charlotte, you really don't know what it takes for some of those kids to walk through that door,'" Gartzke said. "You don't know what their home life is really like, so sometimes them coming to school, that was more normal for them than anything else. So, I always felt I was there for the kids."
With 40 years in the school under her belt, Gartzke saw the office and the schools go through some substantial changes.
While one of the biggest parts of her job – welcoming students each morning – always remained the same, there were, of course, plenty of technological adjustments.
All school district documentation was done by hand on paper when she started out. Attendance, she noted, was all done in books each day.
While the change to computers wasn't terrible for her, Gartzke did bemoan the changes between systems and programs to grapple with over the years.
Far more impactful, Gartzke was a first-hand witness to how the district dealt with the Flood in 1993. She recalled how the office work was all done in FEMA trailers that couldn't accommodate the plentiful documents they had to work with.
"I was working there during the Flood of '93 when everything got topsy-turvy for all of us, and then we spent the years from '93 until March of '96 when we moved into the building here," Gartzke said. "So that was quite the experience too because we were in trailers and a lot of our items were stored in the backs of large trucks because we didn't have the capacity to have all the records and everything stored."
She also specifically recalled how a tornado passed through at the time. Valmeyer students were bussed over to Waterloo to take shelter, and luckily all the trailers were still intact upon their return.
Gartzke spoke somewhat similarly of the COVID-19 pandemic, recalling how everyone expected it to shut down school for a week and be over – only for it to turn into a far bigger problem she felt was quite hard on a number of students.
Despite the ups and downs of the district, Gartzke said her experience in the school office was quite positive. For her, the Valmeyer school was effectively one massive family.
That family will no doubt miss her as she steps away.
As former Valmeyer teacher and one of Gartzke's close friends Anita Muertz attested, Gartzke's calming presence was a staple of the school for everyone.
"Her sitting there is just like, you knew you were in Valmeyer school," Muertz said. "Everybody knew her, it seemed like."
Muertz, reflecting on the three decades she worked alongside Gartzke, further recalled how she dealt with so many problems in the district.
Gartzke, she said, was incredibly dependable, always willing and happy to help parents and students at any time.
"I don't care what child came in there, what the problem was. Charlotte treated them with respect and patience and kindness all the time," Muertz said. "And she smiled all the time, too."
Marcia Braswell, another former Valmeyer teacher and friend of Gartzke, had similar praise for the departing secretary.
"She was my go-to person whenever I needed an answer to a question about what was going on in the school as far as activities or information of any kind, and she has continued to be that for me even since I have retired," Braswell said.
Just like Muertz, Braswell described Gartzke as very accommodating. She noted how Gartzke always knew what needed to be done, further describing the tremendous presence she's had in the office.
"I feel like she's kind of held that office together for a really long time and has always done it with grace and with a smile. Very accommodating for anybody that came in the door," Braswell said.
Having spoken fondly for the district she's dedicated so much of her life to, Gartzke described just how difficult it is to leave.
At 77, she said it's simply time to go, though the difficult farewell reminds her of a quote from "Winnie the Pooh" she is especially fond of.
"'How lucky I am to have something that makes saying goodbye so hard.' And that's really the way I feel," Gartzke said. "It is hard to say goodbye, but it's time."
Looking forward to her official retirement this Friday, Gartzke said she mainly hopes to spend plenty of time with her family, particularly her grandchildren.
Gartzke will be honored as grand marshal of the Valmeyer Midsummer Celebration Parade taking place this Sunday at 1 p.m.