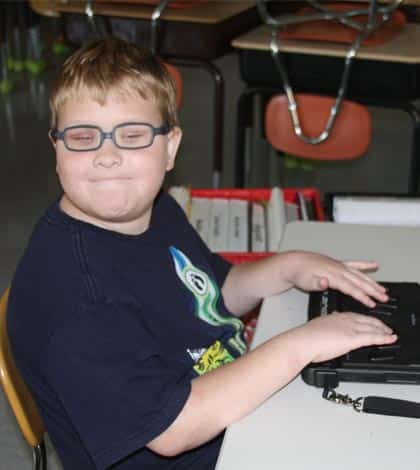 Valmeyer Elementary student Jordan Schilling faces an obstacle preventing him from doing many of the activities his classmates take for granted.
For a while, the visually impaired 11-year-old didn't even have a personal computer for homework. Enter the Valmeyer Lions Club.
Determined to help Jordan succeed, Valmeyer Elementary principal Teena Riechmann reached out to the club to request a donation of $3,995 for a BrailleNote Touch. Such a device allows Jordan to type in braille and access his Google account and the internet.
"This device would play a huge role in his success as he continues his education," Riechmann said in her letter to the Valmeyer Lions.
The Lions responded by purchasing an even higher quality computer in the amount of $5,495. Now, Jordan can enjoy the many useful features of a BrailleNote Touch in the classroom and at home.
"He can use this into his college years, so why would we get him a 16-gig when we could get him a 32-gig that lasts much longer?," said Michael Young, Lions Regional Eye Care administrator.
Jordan worked with his vision teacher, Tara Hollinstead, last Friday at school at the end of the day. Hollinstead explained that the braille changes on the keyboard to show what application he is using. The teacher can also see what he is doing on the screen in print.
"What do you want to say to the (Valmeyer Lions Club) for the computer?" she asked him.
"Thank you," he responded.
Jordan didn't have many words to describe his gratitude, but his intense focus on school work speaks volumes.
"My first time trying (the computer) out was last year. I'm using it in social studies, science, reading," he said.
Young, who is also a member of the Centralia Lions Club, said Riechmann showed a commitment to helping Jordan in any way she could.
"I have to give credit to the principal. She took the initiative to see that this student would be taken care of," he said.
The money for the computer originally came from the Lions Regional Eye Care Program of Southern Illinois, but was reimbursed by the Lions Open Areas Committee — The Lions Open Areas Committee reimburses clubs that are not members of the RECC. 
The RECC program helps a number of people in Monroe County alone with vision problems. Additionally, Jackson said a little more than $9,000 in RECC funds was used in the area in the past year.
"We don't turn anybody down. If someone applies, we try to help whether the club's a member or not," Jackson said.
For instance, a Monroe County child diagnosed with ocular motor deficiencies received treatment last year thanks to a cooperative effort between the Waterloo Lions Club and House of Neighborly Service. The RECC includes 28 member clubs. The program assists in paying for office examinations, therapy, eye surgery, prosthetics and post-operation care.
Regional Eye Care chairman Ken Jackson of the Valmeyer Lions Club said organizations such as the Columbia Rotary Club also partner with the RECC to sponsor clients.
"It makes a difference in getting things done," said Jackson, who is also the Valmeyer Lions Candy Days chairman.
Candy Days fundraiser
In general, the Lions organization offers many avenues for financial assistance for those with hearing or vision impairments. The Lions annual Candy Days fundraiser is one of the larger events used to raise money for these services.
This year's event takes place Friday and Saturday in the county, with Lions Club members out in the streets collecting donations and handing out candy to those driving by. The clubs in the area also requested sponsorships from area businesses for $35 to purchase half of a case of candy. 
These businesses then are given counter mints for customers to eat. Jackson said he believes Valmeyer Lions raise between $300 and $400 from the annual event, and that it raises awareness to the cause. Call Jackson at 939-8574 for more information.
"There is only one requirement you have to meet to be a service organization — you have to care about other people," Jackson said.